If you ask for a definition of girlie, most people would point to dainty underwear, red lipstick, funky purses or shoes. But in my book, dishes leads the list of girlie playthings.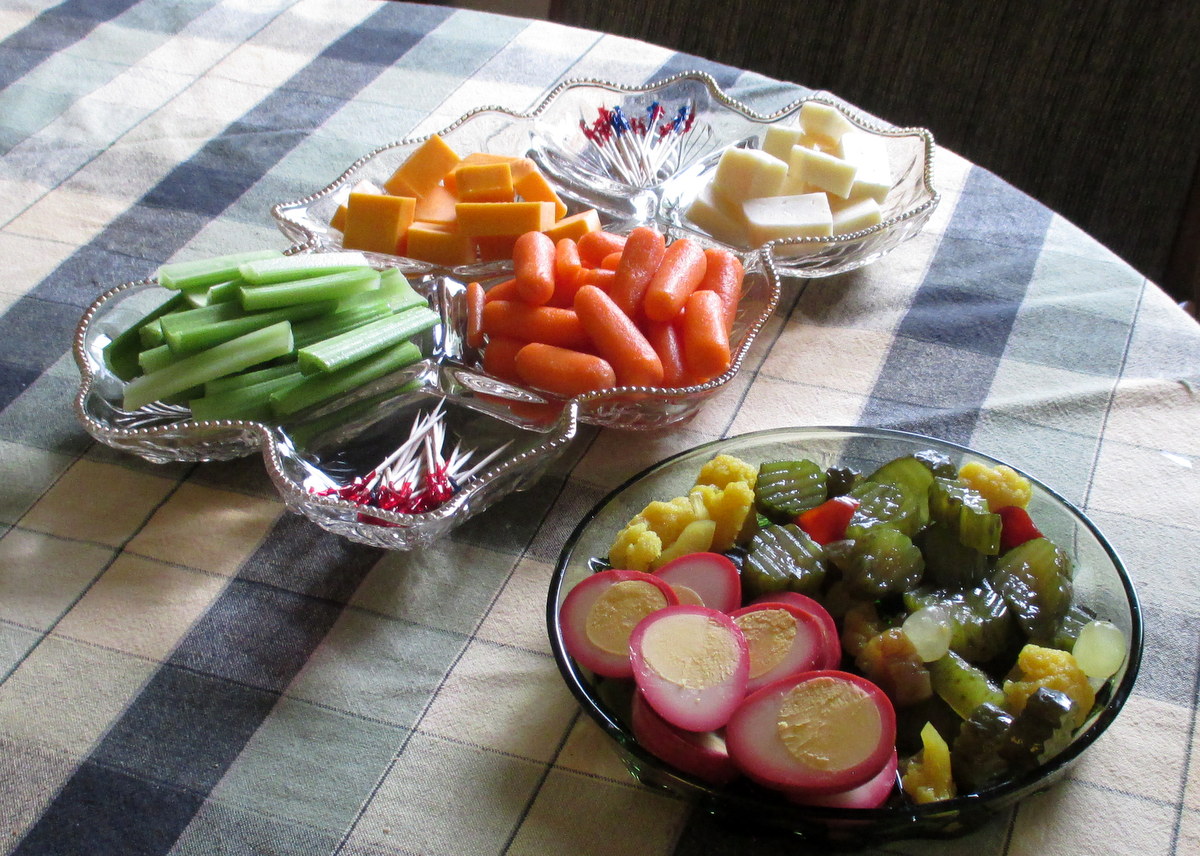 Just the word alone – dishes – has a nice silky sound. Stack dishes and they sound musical, tinkling like wind chimes. In daylight they're pretty and shiny, and in candlelight they glow. As grown girls, we play with real china dishes at real tea parties.
I think I inherited my love of dishes from Grandma Rice. She wasn't girlie in any sense, nor was she a cuddly, cookie-baking grandma like Betty Crocker.  She was stubborn, ornery and a so-so cook, but she liked dishes.
No Wedgwood or Royal Doulton in Mrs. Rice's house, just dishes from Woolworth's or Kresge's, or treasures from the thrift store. She liked gaudy. Bright colors and big flowers were her favorites – orange, red and pink – bold dinnerware like vintage Fiesta or Franciscan, the dish equivalents of big beads and platform shoes.
When her six children were at home, Grandma Rice had an excuse to keep buying dishes because the kids broke them from time to time. But after the kids left home, she kept on buying, and by the time she died, all the cabinets in all the rooms – and stacked boxes, too – were filled with dishes. If the woman who dies with the most dishes wins, my grandmother would be a contender.
In my home, the dish cupboards began overflowing a long time ago. I started selling some dishes on eBay, and that's my excuse to hunt for more at estate auctions and garage sales. My appetites are not satisfied by stilettos or Coach, but by fine china and Lenox. When I need some higher inspiration, a trip to the china department at Macy's will do. I can fondle the designer dishes by Kate Spade and Vera Wang, and imagine that they, too, feel a kinship with graceful cups and lustrous glazes.
When I bring my lovelies home, my addiction is complete: I wash them by hand. Washing dishes may not seem girlie, but it's a great excuse to finger and fuss over the details – petite rose buds, delicate trim in platinum or gold and elegant transfer designs. I know I'll let them go eventually, but while I have them, it's true love.
If space and funds were unlimited, I'd have sets and sets of dishes – real sets, service for 12 – of every maker and pattern I choose. My walls would be lined with glass display cases, sparkling with china plates and cups, radiant under halogen spotlights. All my rooms would look like the China Room in the White House.
There is no love affair like the affair between a girl and her dishes.