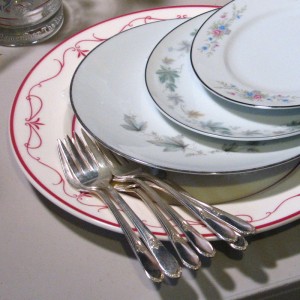 A chef called me not along ago, about some silver plate flatware she needed for a vintage wedding theme rehearsal dinner.
She'd been collecting plates and flatware for a while, but with only 30 hours to go, she need more, and some dinnerware, too.
One thing let to another, and a number of vintage china plates, in sizes for bread, dessert and salad, went to the party, along with the flatware.
The dishes that went to the wedding
Some of the china patterns are show above. These dinnerware designs follow a light color, soft and floral theme. Many vintage china patterns can fit into a theme like this.
As shown in the photo, starting at the top of the stack.
Fantasia by Florenteen: Pastel floral sprays in baskets, on white, and platinum rims.
Fantasy by Rose: Leaves around the rim in soft tones of green, blue, gray and yellow. Also with platinum rims.
Sezanne by Noritake: Graceful leaves on one side,  in tones of gray, blue and green. Small, embossed white flowers and tiny dots of berries in red-orange.
Vintage Rose by Waverly: Center medallion of flowers with a hand painted look, on a warm white background.  Rich pink and rose tones.
The dinnerware was made in Japan, except for the more contemporary Waverly china, which was made in Colombia.
And let me not forget, the silverplate salad or dessert forks that started it all, in the Mary Lou pattern by Rogers/International. (There's a sterling silver version of this pattern called Devonshire.)
I heard the rehearsal dinner went very well, and that the buffet setting got lots of compliments.
The vintage wedding trend is very exciting to me, because it provides so much scope to use lovely, discontinued china. More to come, in future posts!




by