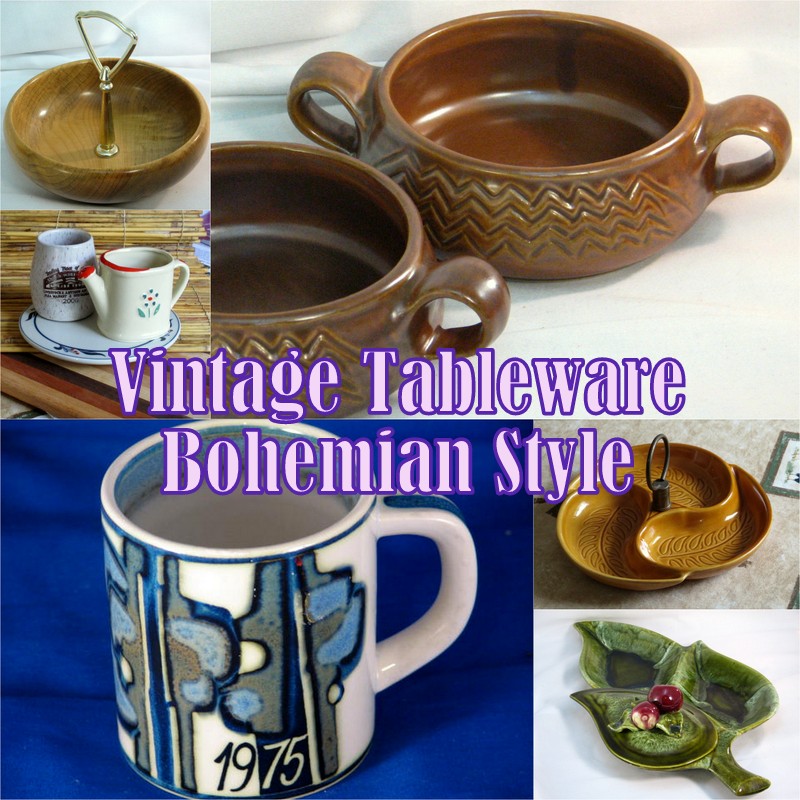 Bohemian style features your collections and almost anything that you have an eye for. If you like it, and especially if you like to use it, just about any tableware or kitchen accessory, in many different kinds of materials, can be part of your eclectic stash for setting a bohemian style table.
Some vintage tableware accessories you may wish to collect: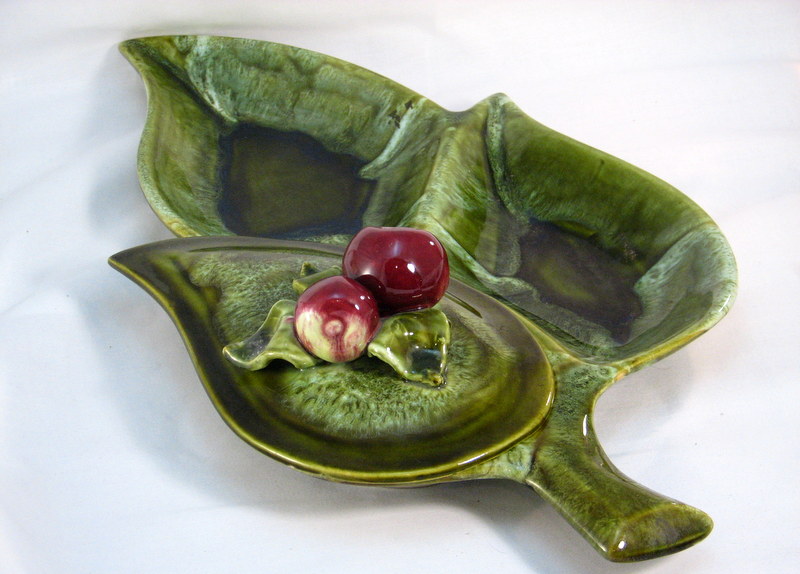 California Pottery
These pieces of serving ware will catch your attention, once you see a few of them. The green Wade three part server, with a top for one section and decorated with ceramic fruits, is one of the best pieces I've ever seen.
In another photo, there's a smaller round server in a warm golden brown. This is typical in color and motif of what you might find.
Some of these pottery pieces are marked with a maker name, or just "Calif."
Not all wonderful vintage pottery is from California. But if you like the look and feel of pieces like these, there is a lot of choose from in secondary marketplaces.
Watch for crazing if you plan to use the pieces to serve food. Crazing means the glassy glaze is cracked, but not the ceramic pottery underneath. This condition allows for liquids to seep into the substrate, which is not food safe.
Crazed, cracked or chipped pieces don't usually make it into my collection, and never for food use.
One of the causes of crazing is fast temperature changes, so do not wash these items in the dishwasher!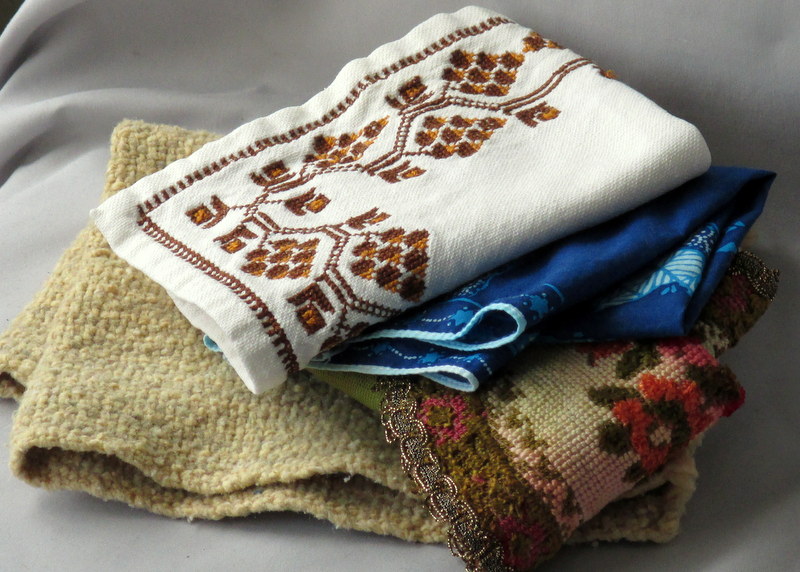 Vintage Linens
There are lots of vintage place mats, table runners, napkins, bread cloths, doilies, potholders and trivets to be found. This pile of goodies took me about 5 minutes in the thrift store.
The white piece with embroidered acorns is a bread cloth on linen. The flower motif piece is a round doily. The metallic edging on that one is another bohemian touch.
The blue item is a handkerchief, but I love blue, and it's batik, which gives it a handmade, exotic vibe.
The place mat on the bottom is woven from chunky yarn in a warm color. It can go with a lot of different ideas I have for bohemian table settings.
You may not always find such items in multiples, such as you might want for place mats. But if you keep looking, you will find something that will accent your bohemian style, and they are often inexpensive.
One caveat: hand embroidered pieces may not be colorfast, so test your pieces by blotting with water. Plan on washing any vintage linens that are washable by hand or on delicate, using Woolite or another appropriate laundry product.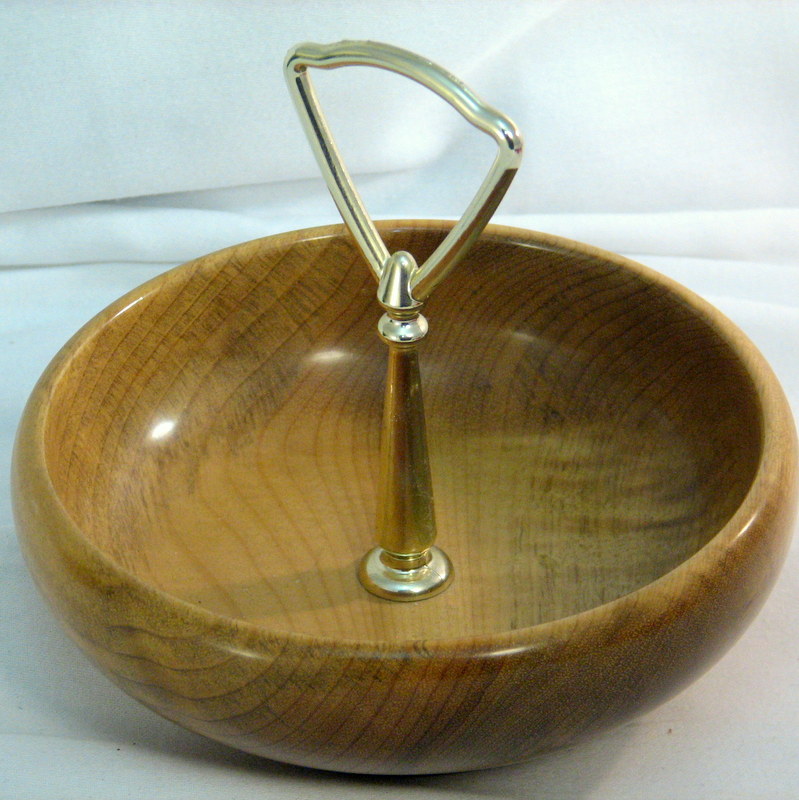 Wood Tableware
The warmth of wood goes well with any bohemian décor. For use on the table, you can find cheese boards, cutting boards, servers of many shapes and sizes, salad sets, salt and pepper sets, and trivets. Wood is very workable, and it's been in use for table accessories for centuries.
This single handle server is made from myrtlewood, a light-colored, warm wood from Oregon in the USA. There are also lots of darker walnut pieces handcrafted in Missouri that you can find in secondary markets.
I'm a softie for pieces like this. In one of my other photos in this post, watch for the bamboo place mat and multi-wood cutting board, handcrafted in Indiana.
Use food grade mineral oil, from the pharmacy, to maintain these pieces. It won't go rancid like vegetable oil.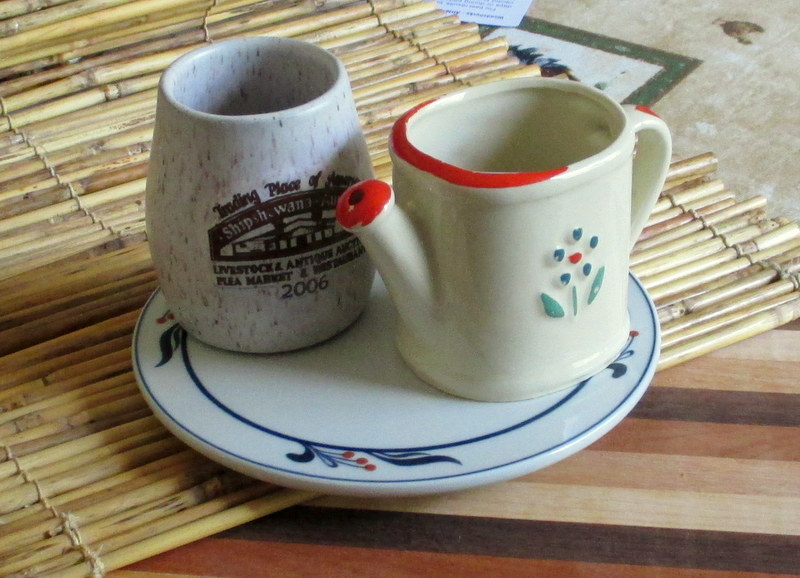 Funky One-of-a-Kind Pieces
There are all kinds of pieces out there waiting for you to find them. Bohemian style is all about: "I liked it, so I bought it."
Some of my favorites are vintage Dansk pieces. I've found mugs, glassware, cutting boards and dinnerware in the Bistro line (like the trivet in the photo). Restaurant ware by Hall and other makers is also practical and fits the vibe (see the two soup mugs in the collage photo).
Check out the little 1975 Dansk mug for espresso, also in the collage photo, the brown and white Onion River pottery jam jar that's a souvenir from Shipshewana, Indiana, the vintage USA pottery watering can, perfect for a petite floral arrangement. If you collect any items like these, or want to start, your bohemian decorating scheme will benefit when you display them.
If you're searching online, try the acronym OOAK for "one of a kind," and see if you get some extra special search results.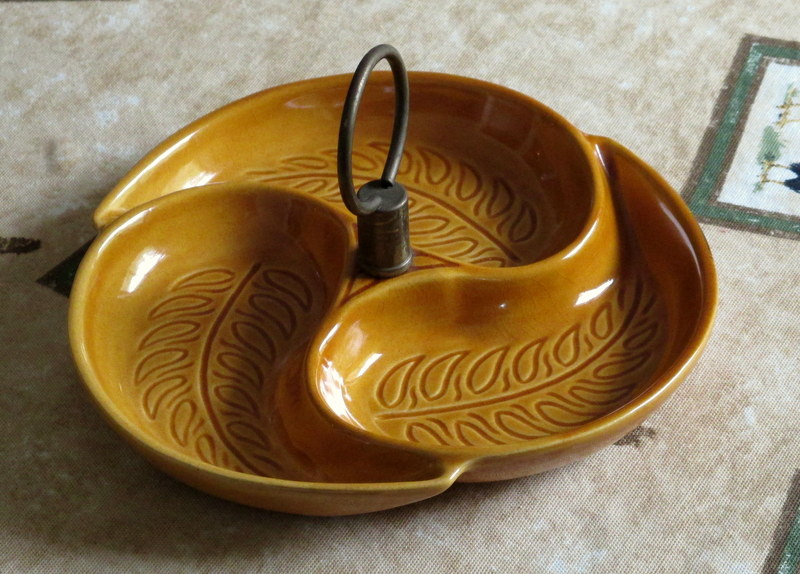 Anything that just screams retro 1970s like this single handled soup mug, repurposed for ice cream, is possible for a bohemian collection of tableware to use. You may never find another one like it, but that's part of the fun of this panoramic style. Anything can go into bohemian style!
More about vintage dinnerware for bohemian décor here. And more about vintage glassware for this style here.




by