Old friends come in the form of vintage dinnerware, as well as people. They are the china and dishes that you remember from childhood, from grandma's house, or those pieces and patterns that connect to happy memories from days gone by.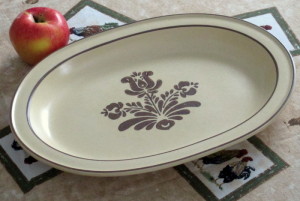 Pfaltzgraff makes a number of patterns that have been made for more than 40 years, including the Village pattern platter in the photo.
This warm custard yellow china platter, with a brown verge and folk art-inspired motif, is just one of my "finds" from recent thrift store shopping.
I like the inviting colors, which work well with a table setting based on bold earth colors.
The platter has high sides that are practical when serving food, especially those favorite foods that are juicy, like savory meats or a pile of vegetables.
These older pieces are often in good condition, without utensil marks, because they were made to withstand use over time.
A vintage platter like this has seen many family dinners and parties in its time.
I've spoken with many other dish fans who look for the older Pfaltzgraff pieces. Perhaps it's not got quite the fan base as the old Fiesta pieces, but its followers are loyal. How cool to find that piece of vintage Pfaltzgraff that you've been seeking!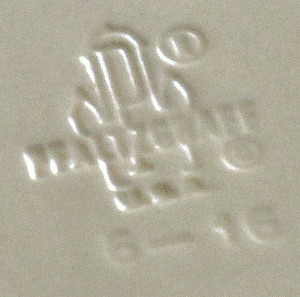 I call this mark the "tall castle" because it's elongated. This is one of the older marks to look for if you want to collect some vintage Pfaltzgraff, made in the USA.
I enjoy using my dishes, and this "new to me" Pfaltzgraff platter has joined my collection of wonderful vintage dinnerware!




by