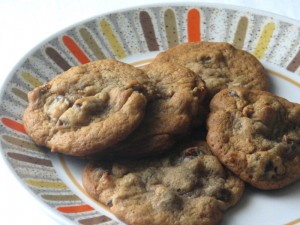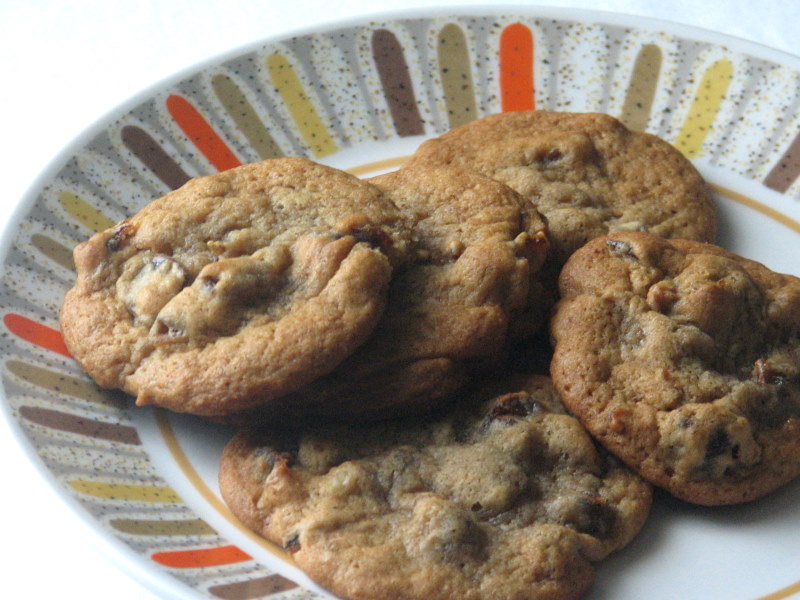 I think it is fun to serve cookies on a plate that goes with them. Vintage Noritake china often makes that easy, with so many beautiful patterns to choose from.
I know that Cookie Monster would not be so picky. Probably wouldn't even bother with a plate, let alone choose one that makes the cookies look especially tasty. But when you have the choice of so many pretty china patterns, why not?
The vintage Mardi Gras pattern by Noritake has great warm colors, on white, in late 1960s to 1970s vintage style. This dinnerware features design that is just as hip as many, more recent wares that you may see.
Mardi Gras comes from the Progression line, a casual classic. I've mentioned some other patterns from this product line before, include the yellow and green Palos Verde and the blue and white Stephanie.
Now for the cookies! Hermits are a handy, cookie jar cookie. It's the cold coffee and dates that make them old fashioned.
Hermit Cookie Recipe
½ cup soft butter
½ cup vegetable shortening
2 cups brown sugar
2 eggs
½ cup cold coffee
3 ½ cups sifted all-purpose flour
1 t. soda
1 t. salt
1 t. cinnamon
1 t. nutmeg
2 ½ cups chopped dates
1 cup chopped walnuts (optional)
In a large bowl, cream butter, shortening and sugar. Beat in eggs one at a time, until smooth.
In another bowl, combine the flour and spices. Alternately add the flour mixture and coffee to the creamed mixture. When the batter is smooth, fold in the dates and nuts.
Chill dough for at least ½ hour before baking. Preheat oven to 400 degrees. Bake just until set, about 10 minutes. Be careful not to over bake. The centers should be just set.
Cool on a rack. Makes about six dozen cookies, 2 ½ inches in diameter.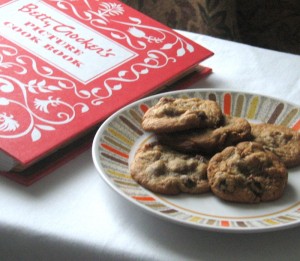 This cookie recipe is based on the version found in the classic Betty Crocker cookbook.
I think the coffee also helps the cinnamon flavor bloom. And the nutmeg gives these an extra kick of spice.
Vintage Noritake china provides many mix and match possibilities for your table setting. As expansive as a party or company dinner. Or as simple as a cookie snack, with a hot cup of coffee, tea, or another favorite drink.




by