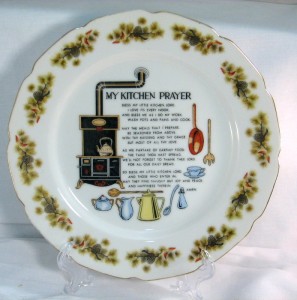 Your china collection doesn't have to be limited to pieces for the table top. Vintage kitchen prayer plates, designed for display on the wall, offer charm and inspiration.
These were made for decorating a kitchen or dining room, especially those in styles based on traditional or country themes.
Big ones, small ones, souvenir versions, with all kinds of kitchen images, these plates were intended only for hanging on the wall, never for serving food.
Even so, table settings can also be based on the colors and motifs found in these captivating china plates, if you wish.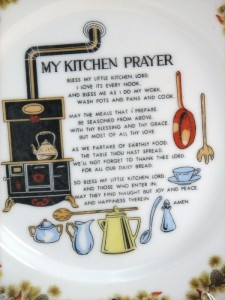 Artmark is one of the vintage makers found in the marketplaces. This ware was made in Japan. Lefton, Otagiri and Enesco are some of the other maker names you may find when you build your collection.
Many of these plates date from the 1960s, into the 1970s when Americana decorating themes were more prevalent than today. Most were made in Japan, and are well made in porcelain china. Of course, there are always exceptions, and ultimately your choice will depend on the kind of plates that fit with the style you want to create.
There are so many possibilities with a plate like this:
Old fashioned stove and kitchen goods decorating the plates can complement your vintage kitchen. My Hoosier cabinet is more modern than the stove shown on this plate, but the pots, tea kettle and other kitchen tools fit right in with the vintage theme
Prayer in the center makes this kind of plate a popular collectible for the sentiments. A wall decorated with several plates like this, all with different prayers, brings a different kind of thoughtful inspiration to the kitchen or dining area
Pine cone motif in the rim fits into a collection based on conifer tree motifs
Bright colors work with other colorful dinnerware, especially solid colors
Vintage kitchen prayer plates might not be everyone's cup of tea. In the right place in your vintage-theme kitchen or home, they can be the cherry on top in a special china collection.




by