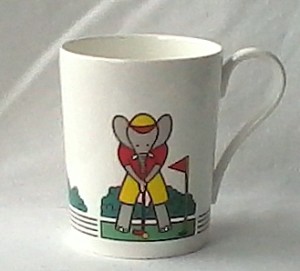 Yard sale signs are popping up faster than dandelions. Are you ready to start shopping for those vintage dishes that you've been looking for?
I've made lists before, though it may seem unnecessary. This is not the grocery store, where you can expect certain inventory to be in stock. Why write a list when you're heading off into the unknown to go shopping?
You never know. I think having a list keeps your mind focused on what you want.
You can be surprised by how the things you want seem to be easier to find when you make a shopping list for vintage goods.
It will also get you brainstorming about what you want, and remind you of things you've thought about but didn't capture at the time.
Tips For Your Thrift Store And Garage Sale Hunt
Evaluate your needs. Are you looking for more of your favorite pattern? Certain piece types? Gifts for someone special?
Write down that wish list. I know for me it's easy to forget something if I don't keep track by writing it on a notepad or scratch paper.
Collect your colors and pattern samples. You can use paint chips, fabric swatches, or even keep a gallery on your smart phone. This will help you with your list, and to review any serendipitous finds you stumble upon.
Bring along some boxes and packing materials, old blankets or towels, so that you can protect and cushion your goodies for travel. I sometimes take empty boxes into thrift stores with me, as there's no guarantee they will have what you need.
Wear good walking shoes, keep a good supply of small bills, and bring your water or snacks. I like to be comfortable when I'm not shopping, and I don't want to stop for basics if I can help it.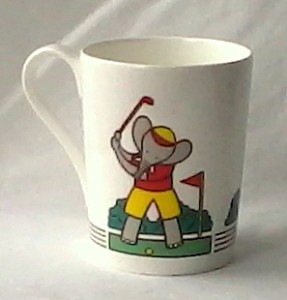 I like to walk through a good sale at least twice.  And by "good," I mean a sale that I can see has lots of promising, vintage items when I scan the surface.
When I find a spot that looks promising, I'll take the time to look in more detail. Check under the tables, and walk by from both directions. You will miss things if you only look once.
Have fun! The thrill of the hunt will carry you along. And when the day is done, you can savor your new dishes while you put up your feet.
Everything is out there, just waiting to be found. There's no time like beautiful summer days to get out and find the dishes you'll want to use for parties and holidays all year round.
In the photo: Studio Nova mug, bone china, in the Chip-and-Putt pattern. How cute is that for the golf lover on your list?




by