Two of my favorite vintage china patterns are based on calm and classic color palettes that work well for a holiday table setting.
Why? Because blue, silver and gold - on a white background - work so well with the monochromatic color palettes that are popular for the holiday season.
If you like to base your holiday décor around these colors, and enjoy vintage dinnerware, you might like these dishes, too.
The subtle details in these dinnerware patterns caught my eye from the first time I saw them: the silver, blue and pine elements in Duchess by Style House, and the gold, turquoise and funky mod details in Berkeley by Noritake.
These sleek patterns go well in my favorite holiday table setting, and I complement them with more modern accessories, like the Martha Stewart blue and silver topiary bell tree, and some white cloth napkins, also from her product line.
Every year, the stores carry more decorations featuring these colors. This is a classic combo that maintains popularity.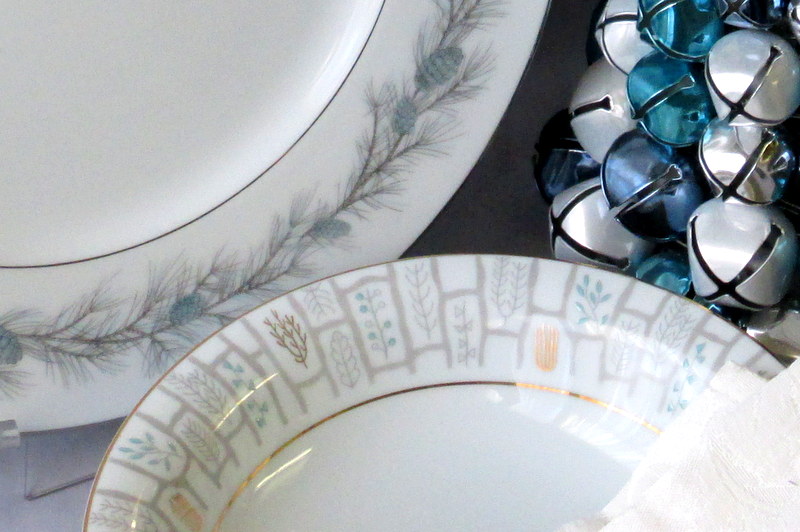 Mix It Up for Holiday Charm
If you only have a few pieces of vintage dinnerware patterns like these, you can play them up in various ways:
Use a charger under the plates or bowls, in silver, gold, blue or turquoise, depending on which pattern you're using
Feature evergreens in your centerpiece, along with blue and silver candles and ribbons, for Duchess
Bring out the gold flatware, napkin rings, candle sticks, or ornaments, for Berkeley
(This works for grandma's set of china, too, especially if it's no longer complete.)
Berkeley is the older pattern, dating from the 1950s to 1960s. No surprise, it's harder to find in my experience, even on Internet shopping sites like eBay or Replacements.
The shapes of serving pieces in the Duchess pattern, such as the creamer and sugar, tell me that this is a design from the later 1960s into the 1970s.
Both these high-quality china lines were made in Japan.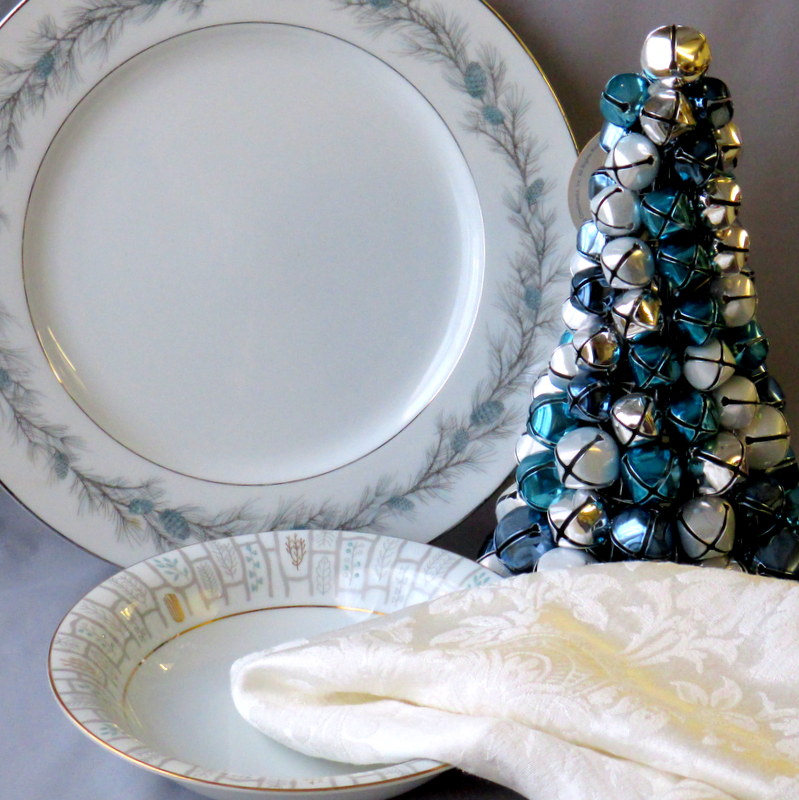 Keep Your Vintage Dinnerware Bright
If you've read this blog for long, you know my opinion about washing vintage dinnerware and glassware.
No dishwasher for either of these beautiful dinnerware patterns! When I use them, hand washing keeps the metallic edges bright, as well as the rest of the finish. And I get to enjoy looking at my dishes, once again.
If you must wash your china in the dishwasher, go with dinnerware that was made in the past 10 or 20 years.
Happy Holidays Go Vintage
Duchess and Berkeley are firmly in place on my permanent shopping list for vintage dinnerware and fine china. The hunt continues, on those days when I get to visit thrift stores and estate sales, and think about the next holiday dinner to come.
If you like blue, silver and gold on your holiday table, these patterns are some of the vintage wares you might enjoy, too!




by