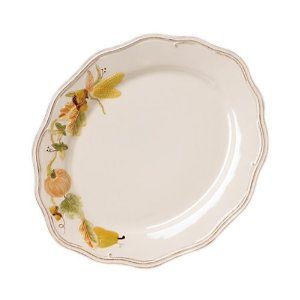 Many turkey platters are so beautiful that they can hang on the wall when not being used to serve your Thanksgiving dinner.
Most standard, oval-shape china platters produced to match your dinnerware set are in the 12 to 16 inch range in length.
Turkey platters, as their name may lead you to conclude, are bigger. They start at 16 inches and go up to 20, or even 24 inches long. The large platter in the Plymouth pattern by Pfaltzgraff, for example, is 18 inches long by 14 inches wide.
A big platter to serve a big bird. Carving the turkey at the table is a time-honored tradition with many families.
Even if you prefer to slice your bird in the privacy of the kitchen, these platters will help you serve stacks of sliced turkey, chicken, ham or roast beef to your family and friends.
I had to smile when I saw a turkey platter labeled "microwave safe." I suppose there could be some restaurant kitchens with a microwave oven big enough to handle a 20-inch turkey platter. Ditto the dishwasher. My thoughts run to one of those convenient "in the drawer" models.
Good to know, in any case. Most modern turkey platters can go in your microwave and dishwasher if you can fit it in.
I prefer to hand wash my good china, and a turkey platter certainly qualifies. Then it can return to its place on the wall or extra large plate stand until Christmas, or the next holiday where an extra large platter is needed.
Turkey platters can serve piles of muffins, cookies or brownies for a crowd. And they also make a great base for a gingerbread house or village, if you're making one for the holidays.




by