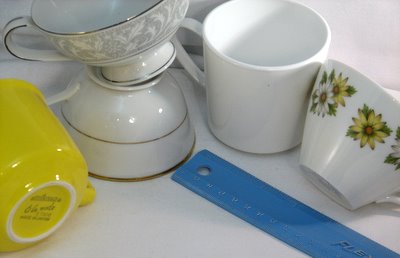 Combing the dish aisle, looking for vintage snack sets, it is very common to find the plates without cups, or perhaps without enough cups to have a complete matched set.
Or the cups are too small to serve the coffee or tea that you want to have with your desserts.
Yet you want to use these charming dishes. What do to?
Measure the indent in the plate so you can look for cups with a foot that will fit into that space. If the cups have a smaller foot, they could work, but cups with a larger foot are going to slide.
Look for solid color cups that complement the motif on the plates. A green patterned plate with a hint of blue in the design, for example, could work with blue cups.
Go for contrast. For example, use yellow plates with white or blue cups instead of yellow ones.
Solve capacity concerns by using the small matching cups to serve a fruit cup or small special dessert.
Serve the coffee or tea in coordinating mugs that compliment the color and design of the snack set.
Mix and match your dishes as a way to make your next party unique and special. The combinations can easily be tailored to suit any occasion, and give yourself and your guests something to talk about...your creative table setting ideas!




by