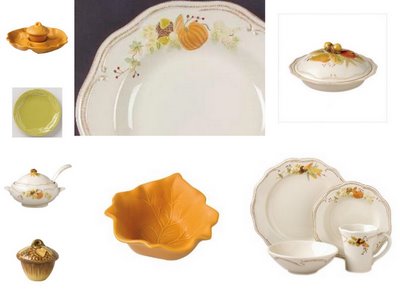 Pfaltzgraff has been making a beautiful dinnerware pattern called Plymouth for a few years now.
The acorns, pumpkins, corn and other fall motifs, as well as the warm fall colors, make this an ideal dinnerware choice for Thanksgiving dinner and other autumn celebrations.
I've had my eye on this one for a while, and am happy to find a large array of piece types available. This makes Plymouth versatile for serving a modern menu.
The pattern includes three sizes of round plates and three other specialty types. Buffet plates are especially handy. There are also two sizes of bowls designed to go at each place setting.
Plymouth can also be combined with other patterns to add to your holiday dinnerware sets.
Bowls in leaf shapes can mix with other foliage motifs
Covered bowls in acorn shapes make great accent pieces for a fall table setting
Pumpkin and squash shapes also celebrate the abundance of the harvest season
Learn more about Plymouth dinnerware by Pfaltzgraff in my detailed review of this product.




by