My permanent shopping list makes shopping for vintage dishes easy.
Shopping for vintage at the holiday season? Get organized to better enjoy the thrill of the hunt!
I have favorite vintage dishes and glass items I'm always searching for. And I keep a small notebook that's my "permanent shopping list" to keep track of them.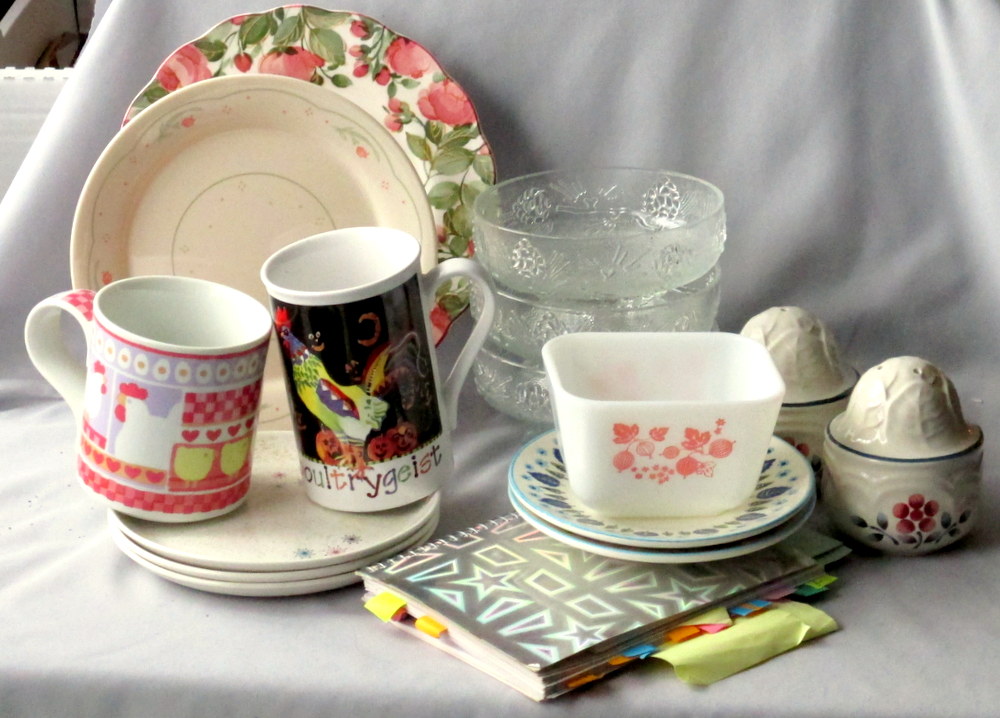 The notebook helps me as a place to record what I have, and the particular piece types and patterns I want to collect.
My list is organized by pattern, but I can also see having it by piece type, depending on how many patterns you're looking for. Some notations about prices help, too, in case you're comparing to the online sources you may also use to find pieces for your collection.
This idea evolved from times gone past, when I shopped for several relatives for birthdays and Christmas. I'd record my ideas as I got them, especially for those hard-to-buy-for family members.
This list is a good tool to refresh your memory when you are ready to go out shopping. It works for the holiday season – when I make a special effort to find those goodies being donated before the end of the year – as well as Christmas dinnerware and accessory items, like candle holders and tablecloths.
I've been using this notebook for more than 10 years, so it's old school, on paper. Lots of stickers around the edges, marking special pages.
If I was starting out now, I might just keep the list as a photo gallery on my smart phone. Then I would have photos as well as the written details. Or look for a shopping list app that allows me to include my own photos.
Dinnerware Wishes from My Permanent Shopping List
Some of my listed patterns are represented in the photo. Clockwise, from the top left:
Precious by Nikko, salad plate.
Calico Rose by Corelle, salad plate.
Ponderosa Pine by Tiara, salad bowls. (This pattern also comes in green. Check out another use for these dishes in a prior post here.)
Brambleberry, Cumberland product line, by Hearthside, salt and pepper shakers.
Pink Gooseberry by Corning, refrigerator dish. (Goes with my casserole dish set.)
Swiss Alpine by Marcrest, saucers.
Celeste by WS George, bread plates.
Poultrygeist mug Poultry in Motion line by Sharon Neuhaus Designs.
Unknown pattern, chicken motif mug by GHC for Current, Inc.
I just tuck my permanent shopping list into my bag, to take when I go out shopping at any time of year. That keeps it handy to refer to as I'm looking for beautiful, vintage china and glass.




by