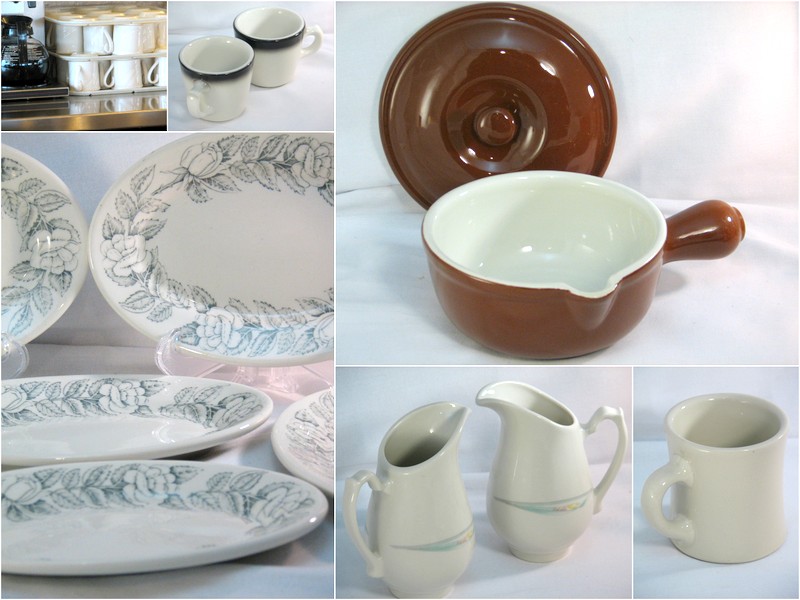 You know the kind of local restaurant I'm talking about. Mom and Pop. Everybody knows your name. Not a cookie cutter, nor a cliché. A neighborhood one-of-a-kind. The orders are called out loud to the short order cooks, and the clatter of china is common.
A waitress carrying three, four, or more full meals balanced carefully up her arm darts between tables. Heavy china serves a wide array of comfort food, like steaming coffee, luscious stacks of pancakes, massive salads, substandial steaks and hand-formed burgers with grill-toasted buns.
The hardworking china they use is called restaurant ware. It has a smaller but passionate following of loyal collectors. Once it hooks you, you will see it a mile off in your garage sale and thrift store hunts.
This is the heavy dinnerware that says "1950s diner" as soon as you see it. It was made for food service in casual restaurants, as well as on airlines, trains and for institutions for many years. And this ware is still made by companies whose names you may know if you are familiar with china: Homer Laughlin, Syracuse and Buffalo to name only a few.
A lot of the pieces are plain white but some have color borders, and others have intricate transfer patterns in the rims. Some wares commissioned by colleges, rail lines and restaurant chains have logos and emblems to identify the ware as theirs, like the stuff I ate off of for four years in the 1970s, in college at Indiana University.
I worked in the dish room for a while, and got very familiar with this china.
Restaurant ware has to be durable to take the constant wear from heavy use it gets. It is fired at a high temperature, and early wares touted this by marking the pieces as "vitrified," which means that the pieces are fired to make the glass glazing form a tight coating over the pottery underneath. Earlier wares were more porous, and sometimes water or other liquids could get under the glaze and darken the pieces.
To start collecting restaurant ware, coffee mugs can be an obvious choice. There are many of them, and you can find them pretty easily once you know what to look for. Besides the makers mentioned above, look for Sterling, Mayer, Shenango and Iroquois as well.
Clean restaurant ware the same way as you would any other collectible china that you have. It can take rougher handling, but to keep it free of chips or cracks, we recommend hand washing and drying.
If you love the vintage and retro look on your table, restaurant ware can be a new horizon of adventure in collecting china that you can use and enjoy.




by