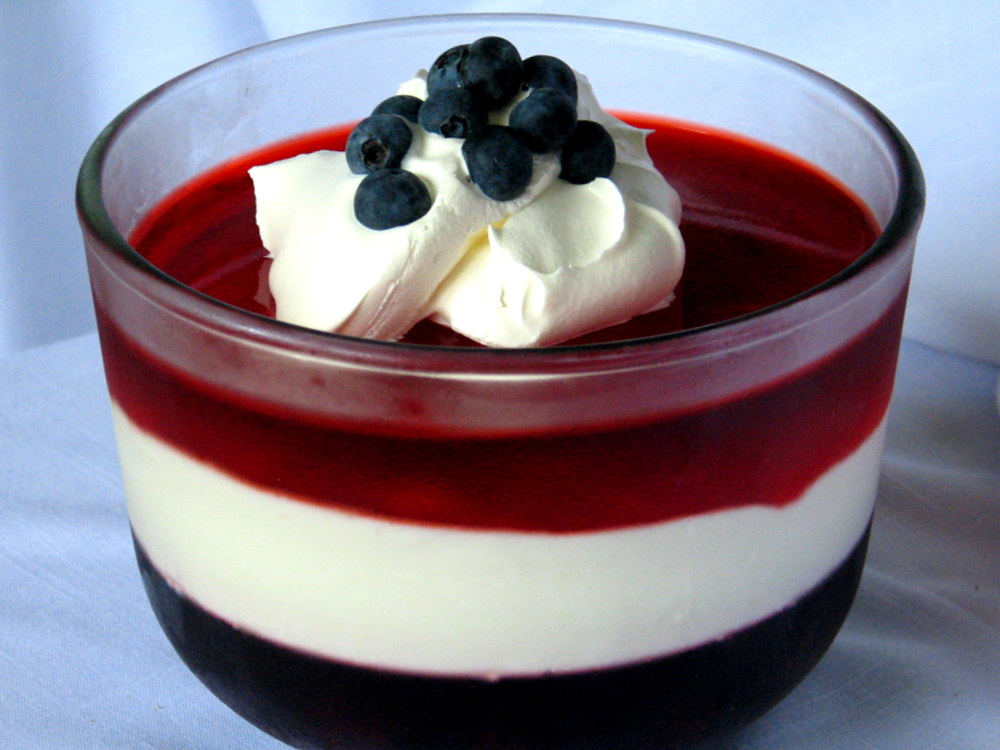 Glass has so many uses for food, especially clear glass, when you want to make something special for a holiday treat.
This red, white and blue gelatin recipe has been around for many years in different versions. I thought a vintage glass mixing bowl would really show it off, and take up less space in the refrigerator.
The gelatin will be made differently than package directions. The dish to display it in will be, too. Use a 3 quart glass baking dish to be more conventional.
4th of July Jell-O salad
2 pkg (3 oz) Blackberry Fusion Jell-O
1 can blackberry pie filling
1 pkg (3 oz) lemon flavored gelatin
1 pkg (8 oz) cream cheese
1 pkg (8 oz) whipped topping
2 pkg (8 oz) strawberry flavored gelatin
Steps
Prepare the blackberry gelatin with 2 cups boiling water and 1 cup cold water. Add pie filling and stir until it is mixed completely. Pour into the bowl and refrigerate until firm.
Prepare the lemon gelatin using 1 cup boiling water. In a separate bowl, beat the cream cheese lightly, then add the gelatin mixture. Allow to cool to room temperature, then fold in the whipped topping. Spread on top of the blackberry mixture and return to the refrigerator until firm.
Prepare the strawberry gelatin with 2 cups boiling water and 1 cup cold water. Cool to room temperature and pour gently on top of the lemon mixture. Return to the refrigerator until set.
Serve in dessert bowls. Top with some additional whipped topping if desired.
The original version of this recipe was made with black cherry gelatin instead of blackberry, and used blueberry pie filling. The fusion flavor gelatin is a recent addition to the product line. There is also grape flavored gelatin, but we decided to go with the blackberry because we could get a pie filling to match.
The great thing about vintage dishes, and recipes, is that you can play around with them a bit, to come up with new combinations. Making this recipe in an unconventional dish can certainly get a conversation started, and may start a new family tradition!




by