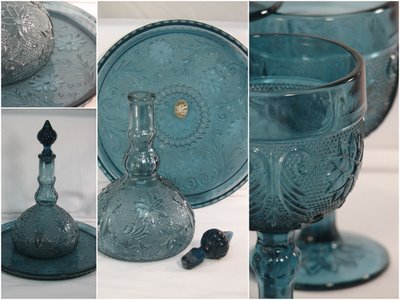 We were out and about last week, and found this classy glass decanter and matching tray in the Bicentennial Blue color, Sandwich pattern, by Tiara.
Tiara was sold at home parties, and made by Indiana Glass in Dunkirk, Indiana. One of its most extensively made patterns was No. 170, called Sandwich or Early American.
This pattern harkens back to the early glass makers in Sandwich, Mass. The pattern has stylized flowers and swirls and is quite charming. The Tiara ware is properly called Sandwich Pattern, vs. Sandwich Glass, for the glassware made by companies in and around Sandwich, Mass.
This decanter and tray are in the Bicentennial Blue color, which was only made in 1976. It was sold as a set, along with eight small wine or cordial glasses.
Tiara also made the Sandwich pattern in ruby, amber, crystal, Chantilly green, peach, plum and spruce, beginning in 1970 up to 1998. Various colors were made during different times during that period. Anchor Hocking, Westmoreland and other makers made variations of this pattern as well.
Using Your Vintage Tiara Glass
Glassware in the Bicentennial Blue glass will go well with many blue patterns of china in your table setting, as well as floral patterns. Sandwich pattern glassware will also work with traditional Early American china patterns like Yorktowne or Folk Art by Pfaltzgraff.
We recommend hand washing this ware, to keep it shiny and bright for many years to come.
Read more about Sandwich glass in this Collector's Corner article, published by AuctionBytes.




by