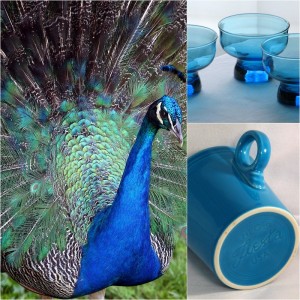 Dinnerware and glassware makers choose the peacock blue color for its rich intensity and striking boldness.
You can see the inspiration, from the peacock's feathers. The male peacock has lots of showy color. It's a distinctive color choice for dinnerware, glassware and home decor.
This blue is one of the standard colors in the revived production of Fiesta dinnerware by Homer Laughlin.
Newer Fiesta introduced the color around 2005, and you can set your entire table with it if you choose. There are different four and five piece place setting combinations available, and lots of additional plate and bowl sizes, beyond the standard dinner plate, salad plate and coupe soup bowl.
The Peacock Fiesta line includes many serving pieces and ovenware, and complementary flatware and glassware, too.
As for vintage glassware, Morgantown Glass in West Virginia produced some glassware in this color, though I haven't been able to determine if the glass in the photo was one of their patterns. The factory closed in the early 1970s.
Peacock blue cycles in and out of style. So far, the color experts at Pantone have not chosen it as Color of the Year, though there have been several colors in the blue, aqua and turquoise color families. (The 2011 Color of the Year is Honeysuckle Pink.)
I'll date myself. I had peacock blue fountain pen ink, which I used for writing English class assignments in the…well, not quite 50 years ago. It came in little plastic tubes that you inserted into the body of the pen. This color has been one of my favorites for a long time.
The inspiration to use this color can come from nature, personal preference, or history. It coordinates well with other saturated colors, as well as white. It can also mix with a blue or blue-green color tableware theme.
I'm happy to have peacock blue dinnerware and glassware to include in my table setting palette.
Peacock photo: Sias van Schalkwyk/Sxc.hu
About the photo: Vintage blue glassware probably from the late 1960s to 1970s. Fiesta mug is contemporary, by Homer Laughlin.




by