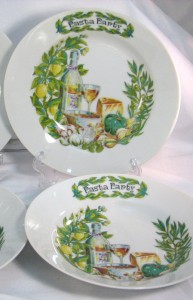 Large china pasta bowls are perfect to serve a big Saturday night spaghetti dinner.
If not spaghetti, then mostacholli, ravioli, even macaroni and cheese. Any pasta dish that makes a meal by itself, or perhaps served along with a salad or crusty bread.
Bowls like these were designed to hold a good-sized serving of your favorite pasta recipe, sauce and all.
Many standard dinnerware patterns of the 1980s and 1990s included a pasta bowl as one of the available piece types. These bowls are generally about 8 or 9 inches in diameter, and at least 2 1/2 inches deep.
Specialty dinnerware makers also made pasta bowls. They made more elaborate patterns, like this Gailstyn set called Pasta Party. Their wares were made in sets as specialty ware just for pasta. This colorful set is transfer-decorated porcelain, made in Japan.
These were produced for occasional use as charming, casual china, similar to what you may see today in sets of salad or dessert plates, with no other matching pieces made.
If I'm not making homemade pizza on Saturday night, I'm likely cooking a big pot of spaghetti with mushroom sauce, sometimes with, and sometimes without, sweet Italian sausage.
Bring on the Parmesan cheese -- perhaps a glass of wine. After dinner and a long day,  put up your feet and find your favorite TV show or movie.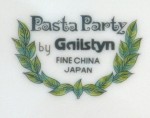 Big china pasta bowls make it easy to serve a quick dinner on the weekend, or anytime.




by