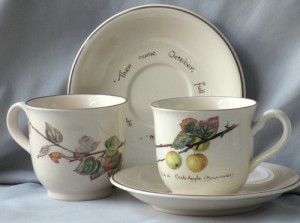 Even if you know of the book, The Country Diary of an Edwardian Lady, you might not know that this classic inspired a dinnerware set, made by Noritake in the 1980s.
The book was a publishing hit, when it came out in 1977, in a facsimile edition of the naturalist diary of Edith Blackwell Holden (1871-1920).
Originally the book was called Nature Notes from 1906. She was known in her lifetime as a teacher, watercolorist and book illustrator. This 1977 edition was a publishing success.
It would have been expected for a naturalist at that time to keep a sketchbook of samples, to record details of plants and animals seen in the wild. The beauty of these particular illustrations, and the diary overall, a gem. Fortunately, the book came to light and was made available.
The span of the Edwardian era is usually given as 1901-1910, the years immediately following Queen Victoria, when King Edward VII reigned in England.
Sometimes the period is extended to 1912 (the sinking of the Titanic) or 1914 (the start of World War I), which includes the storyline of the Downton Abbey television series.
Art and Tradition, Combined in Dinnerware
Out of that history, a dinnerware pattern was born after 70 years.
Classic design never goes out of style.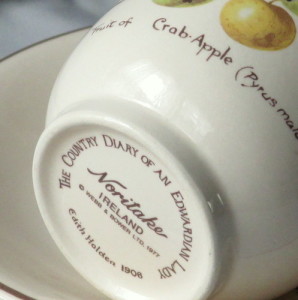 The colors and shapes of the Country Diary dishes are traditional, and also fit in with the popular styles of dinnerware in the 1980s. The success of the book showed there was a market.
In addition, Noritake was creating patterns like Peonytime, Kilkee, Tipperary, Ivy Lane, Shannon Spring, New Hope, Yesterday and others that featured the beauty of nature in Ireland, where the china was made.
The cups and saucers of this pattern are decorated with crab apples, leaves and branches, as you would see them in the fall – primarily muted tones of brown, green and ochre yellow on a pale almond background.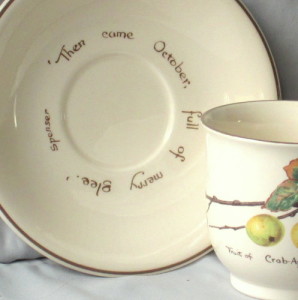 The verse by Spenser is on the saucer: "Then came October, full of merry glee."
Other pieces in the dinnerware set feature fruits, flowers and birds from other seasons.
It appears there is a later edition of the Country Diary dinnerware pattern – also by Noritake but produced in Sri Lanka – which replaced the sentiments with small floral motifs.
Today this dinnerware is old enough to be "vintage," and it is finding some new fans who love traditional wares, especially those sets like Portmeirion's ever-popular Botanic Garden, which feature different motifs on the various piece types.
The Country Diary of an Edwardian Lady is still available, if you want to see this beautiful source of inspiration.
I'm very happy to have a few pieces of this classy, nature-inspired pattern in my dinnerware collection. It can mix and match with my other traditional pieces that feature leaves, fruits and flowers, depending on my color palette and the overall look I want for my table setting.
Do you have a favorite dinnerware pattern based on nature, or a traditional theme? Please feel free to leave a comment below!




by