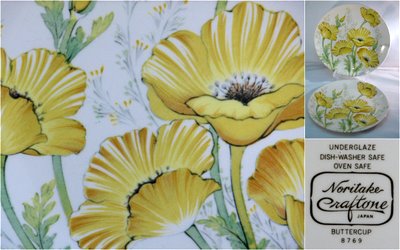 Buttercups are bold? They are when they are featured on dinnerware from the vintage Craftone line by Noritake. Many of the patterns in this product line are decorated with big, dramatic flowers.
Many dinnerware patterns from the 1970s have something bold about them. Many of those are classic retro in shape or color, like another Noritake product line Primastone, which is made in stoneware. These pieces have chunky handles and rich glaze colors.
Craftone is a lighter china with a glassy, shiny glaze. Most patterns in this line were produced in the mid to late 1970s. These are the vivid and striking motifs, whether through a floral design, or stripes. Another round of patterns from the mid 1980s have designs that are more petite and charming.
Either way, this dinnerware is another way for you to bring your creative table setting ideas to life.
Buttercups in the plant world are related to anemones, clematis and delphiniums.
When you mix and match your dinnerware, this pattern goes well as a complement to other floral wares, especially when used as a focal point. It can mix with color schemes that feature yellow, yellow and white, or blue and white. Your imagination is the only limit.
Some of the other patterns in the Craftone line: Trees, Joy, Whimsy, Cheer, Flower Power, Medley, Potpourri, Midsummer, Ragtime, Surf Blue, Picnic, Sunflower, Mahogany, Dominique and Claudette.
Other vintage Noritake china lines include Progression and Cook n'Serve.




by