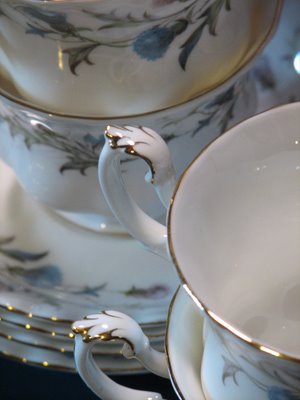 Brigadoon by Royal Albert is a Scotland-inspired pattern with the thistle motif in blue, pink and leaves in tones of green. Gold rims and details just add to the classic, fancy appeal of this fine bone china dinnerware.
Beautiful china like this is also the perfect kind of dinnerware for your special Mother's Day lunch or dinner. In 2010, that's May 9, which is only a month away.
A simple tea service with tiny sandwiches, savory treats and sweet desserts creates an intimate and restful even for Mom and a few friends.
Or bring out the platters and serving bowls, and have an elegant lunch or dinner with all the trimmings.
Mix and Match Your Dinnerware
Brigadoon can also be used along with other bone china or fine china patterns with floral motifs to add a creative touch to your table setting. For example:
Old Country Roses by Royal Albert
Jubilee Rose by Royal Albert
Raleigh by Lenox
Wild Tudor by Aynsley
Queen o' th' Highlands by Roslyn
Many kinds of dinnerware can be combined into unique, one-of-a-kind table settings that you and your guests will enjoy. Check this link for some other ideas for combining china for a Mother's Day dinner.
For fine and bone china wares, especially those with gold or platinum rims, we recommend hand washing. Also, avoid products with lemon. Lining your dish drainer with a thin tea towel will let the china drain with a bit of padding to protect it from a metal drying rack.
These measures will help to preserve the rims and the finish. For storage, use thin plastic foam sheets to help prevent nicks. These are often available in stores where you can purchase moving or shipping supplies.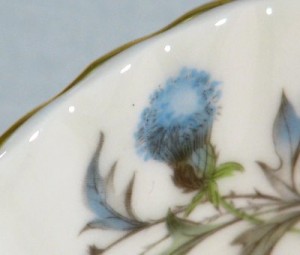 by