Any time is a good time to shop for vintage dishes, and especially now, when there seems to be more and more available in secondhand marketplaces.
Where I live, there are new stores that have opened, and the regular thrift shops are often stuffed to the max with vintage wares.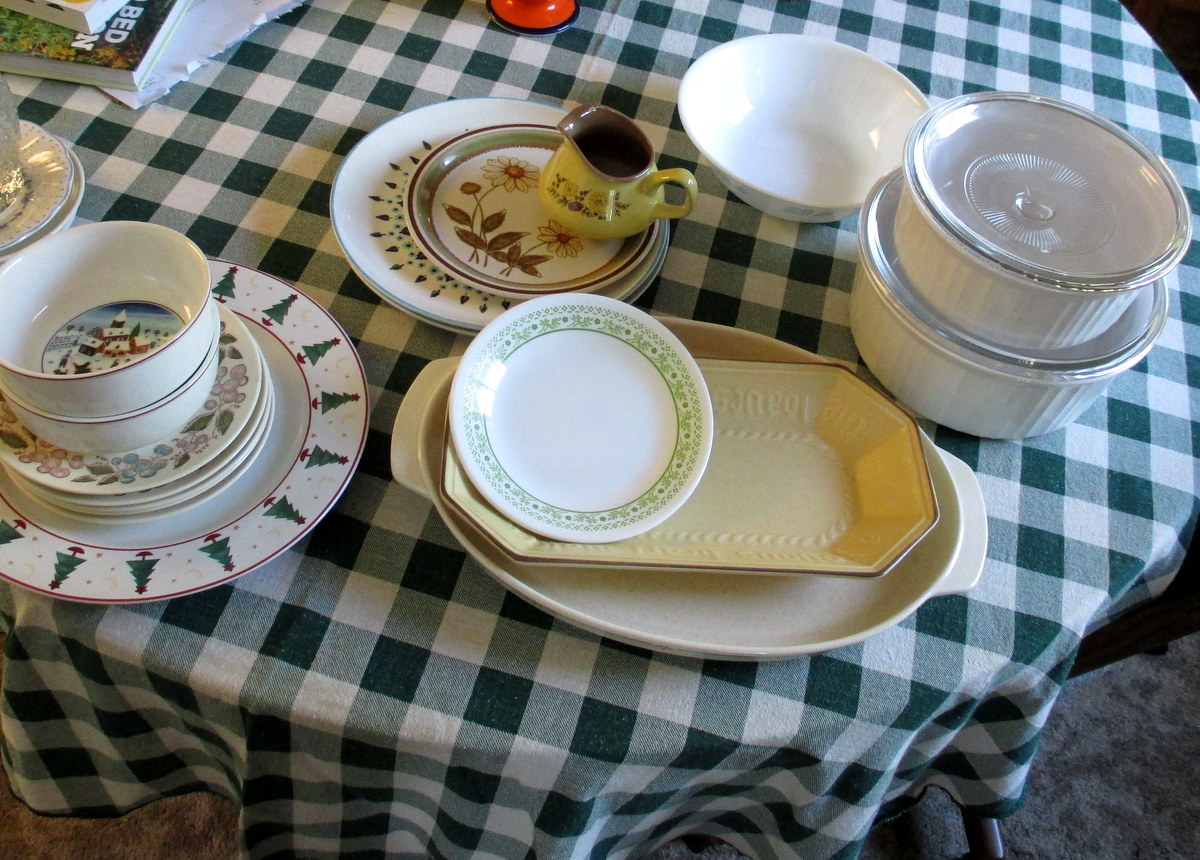 I handle my shopping via my permanent shopping list, set up with categories to help me keep some kind of focus. If I didn't do that, I might spend half a day in a single store. A nice idea, but I do have a life outside of vintage dishes.
Some Vintage Dish Categories I Use
On recent shopping trips, I found good items in four of my categories: Serving pieces, Christmas, Pyres/Corning/Corelle and Retro Classics. (I have other categories for particular patterns I want to add as well.)
I am a kid in the dish candy store.
There is a method to my madness; I cannot keep everything myself, even if I wanted to.
I have gift giving in mind, for all holidays and occasions year round. I like to give a vintage dish full of cookies or holiday treats. I don't have to be concerned whether I get the dish back, it's part of the gift.
Smaller pieces can be party favors or go into Easter baskets. The possibilities are endless. And you get to enjoy the thrill of the hunt. What you find might even inspire the next theme for your party, table setting, or centerpiece. Read on for details about what I found.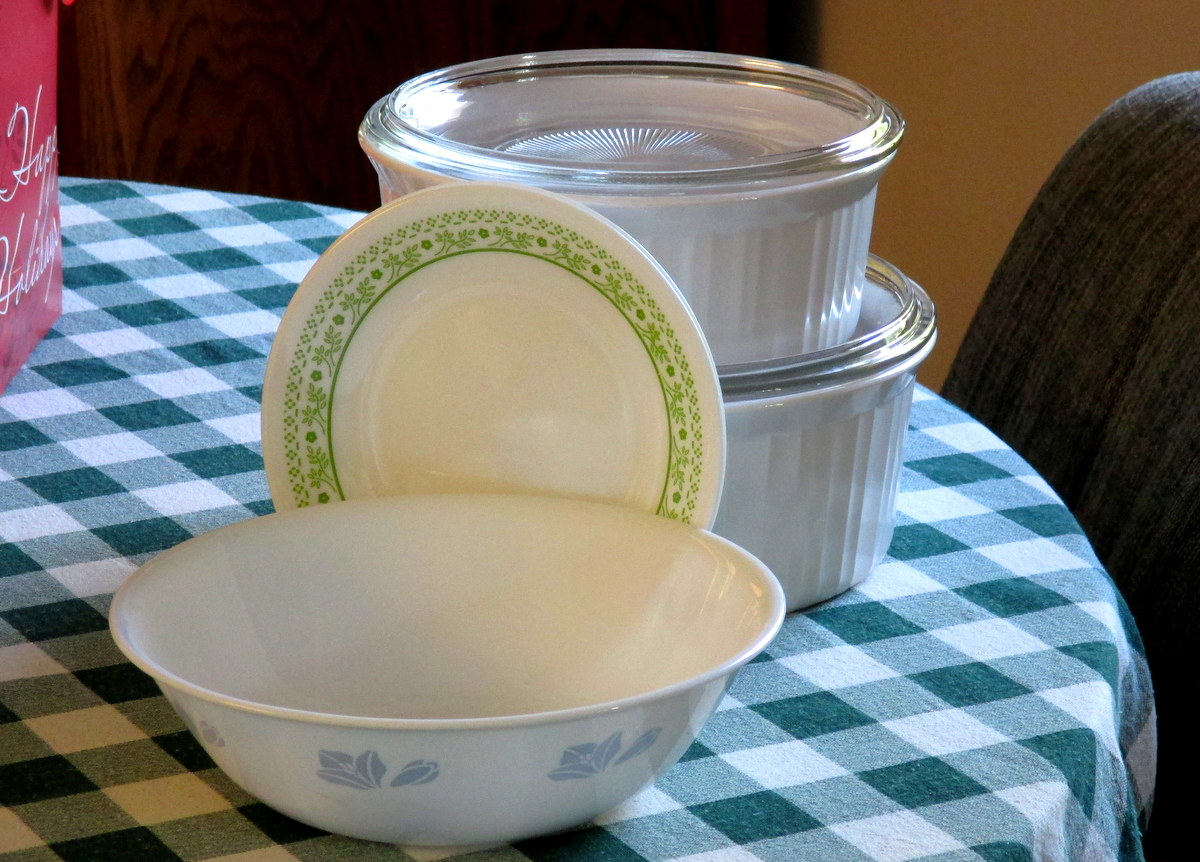 Pyres/Corning/Corelle
Pieces in this category are so practical. One of my "giftees" is a bachelor, challenged when it comes to home cooking, and the bakeware is especially good for him, though these particular French White by Corning round casseroles with lids might have to stay with me. Finding them with tops in not common.
There will be more where those came from.
I also got small places in the Honeydew pattern by Corelle. This sweet design can go for lots of "green" holidays or other events. This is the size we use all the time.
Then there is a serving bowl in the Friendship pattern by Corelle, another very practical piece type.
Christmas
Many of the stores I like the best now have permanent sections devoted to Christmas. I guess I'm not the only one who likes to plan ahead for important holidays.
You'll see the small Corelle plates have reappeared. This shade of green can be dressed to go with a Christmas theme.
I also got dinner places, Magic of Santa by Sakura. This pattern is from the 1990s. Santa appears on other piece types in the group. These are nice because they can go with other holiday wares, as well as the one they match.
No doubt I was getting the two soup or salad bowls in the Naif Christmas by Villeroy and Boch. This pattern was recently discontinued, after being made for more than 30 years. Holiday patterns stay in style. They are evergreen in more ways than one.
If I don't keep them myself, these can be filled with spiced nuts, peanut brittle or other holiday candies, wrapped in cellophane, tied with a bright ribbon, and given as a gift.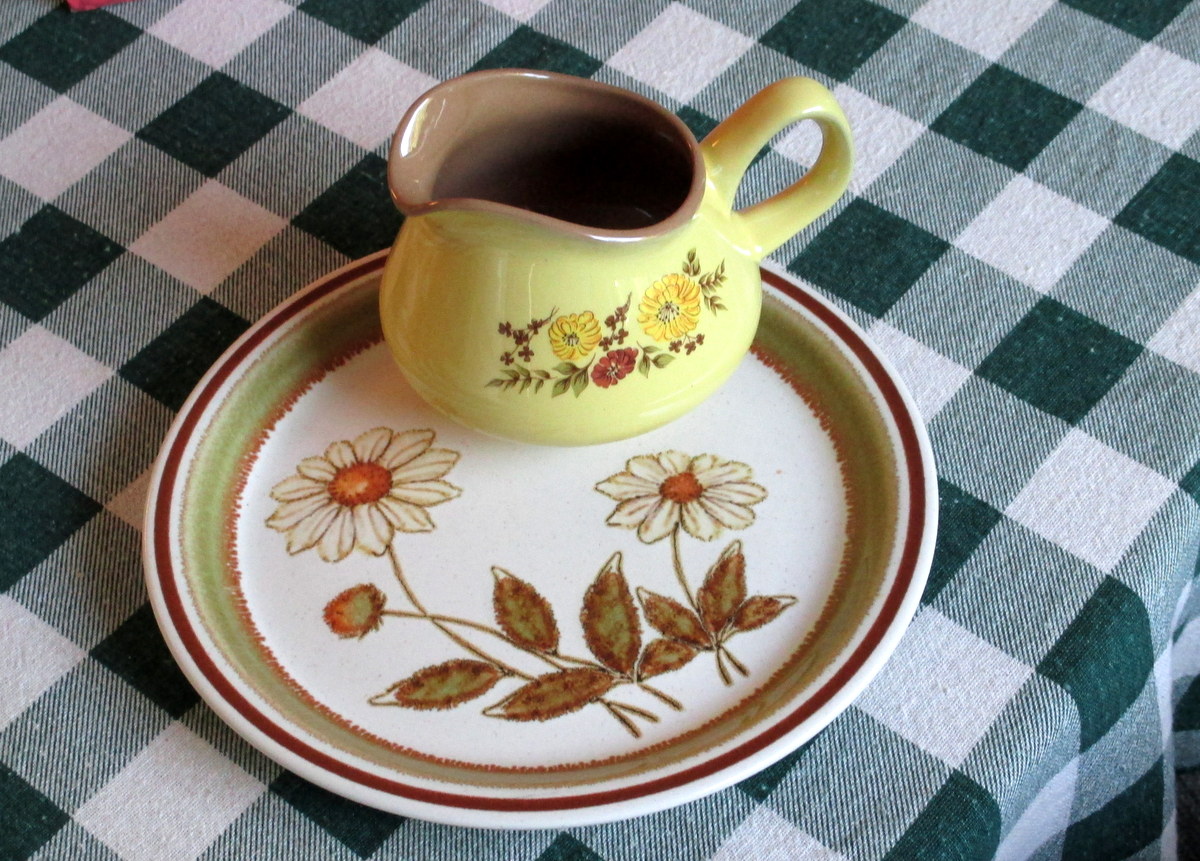 Retro Classics
This is a group that is always dear to my heart because they remind me of dinnerware we had at home, back in the day.
I found a creamer by Taylor Smith Taylor in the Indian Summer design. This is ware from the late 1960s, featuring bold, rich colors that are back in style, especially for a Bohemian look.
I had to have the single salad plate in the Country Morn pattern, from the Country Roads Collection by Japan china. This stoneware is very well made, and it's a shame it's not more popular (based on what I see in my travels). Again, another design that features warm colors, easy to use as a palette for a vintage table setting.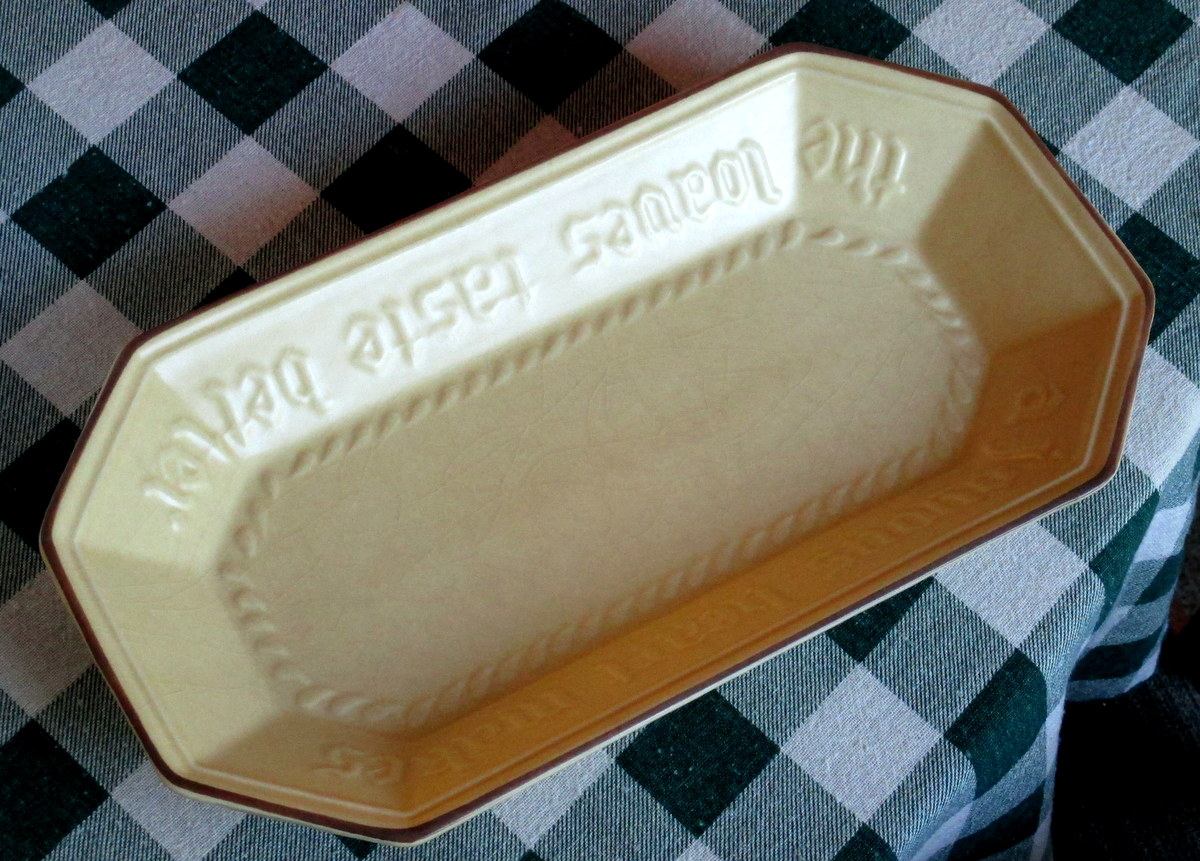 Serving Pieces
If you want to get creative with your table setting, or want to add a pattern to your collection without going for place settings, serving pieces could be right for you. You get to enjoy the design as a one-off, which you can feature on your table or buffet, either to serve a special dish, or use in a centerpiece.
I found a bread tray in the Village by Pfaltzgraff. This pattern screams Americana, and it has been made since 1976. There is a lot out there, some made in the USA, some overseas. Condition note: this piece is crazed. The glaze is cracked and food might be able to come into contact with the ceramic underneath.
I'll use this with a bread cloth or parchment to separate the rolls or muffins I serve in it. Do not use crazed pieces for baking, or serving any food where liquid can get into those superficial cracks. If in doubt, it's a centerpiece.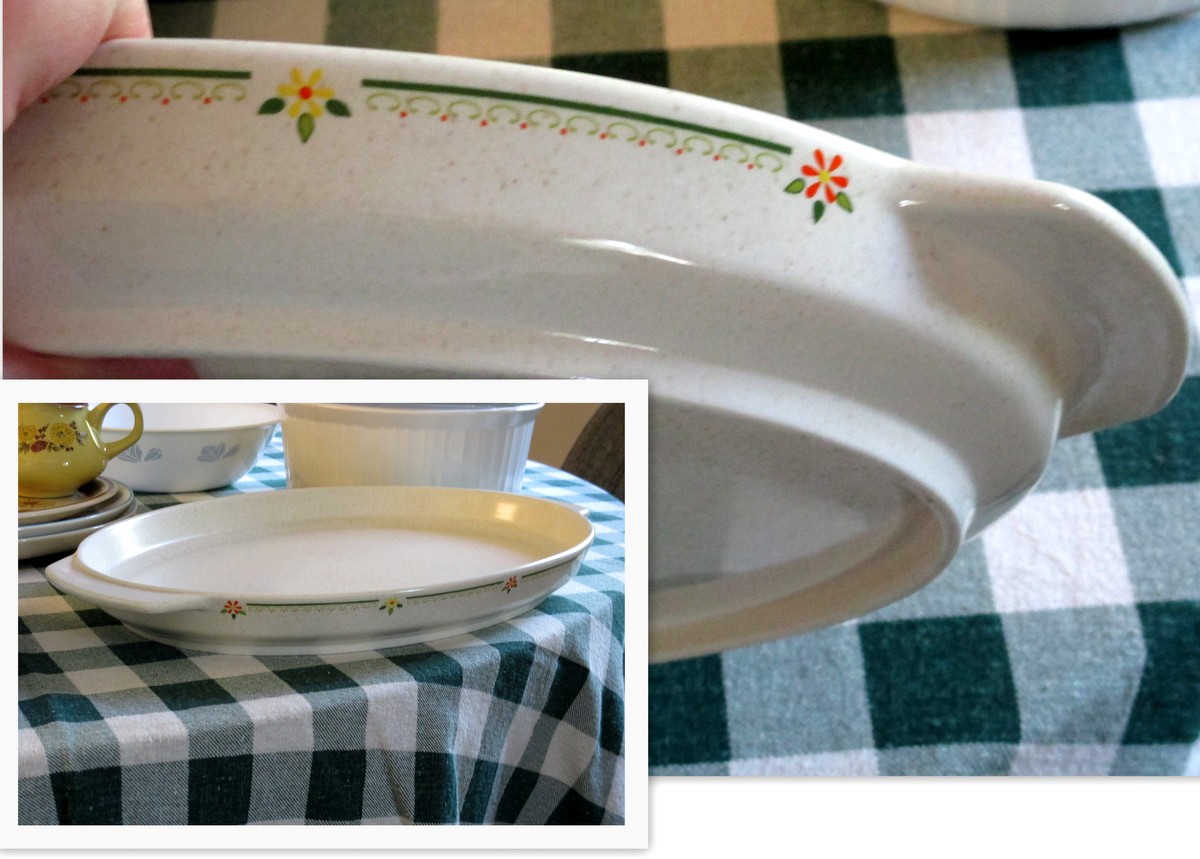 Then there was my splurge, more from the angle of where to store it, vs. the price. That is the oval roasting dish in the Countryside pattern by Lenox. The material is called Temper-ware. In my experience, these pieces can get discolored over time. This one is pristine. I'll use for serving, not in the oven. It's a good size for a lot of dishes made in quantity to feed a crowd.
And that's it for this round of shopping.
There is so much good vintage china  available out there, priced to sell. It seems people are downsizing and the younger generations are not very interested in these items.
The good news is, dish lovers who want to build a collection of dinnerware based on any criteria can have a great time collecting it, whether you're looking for grandma's dishes, floral themes, special party dishes or tea sets, or any other dinnerware under the sun.




by