When I'm out hunting for dinnerware, I find wonderful things that I've never seen, such as this Dudson china soup, salad or pasta bowl.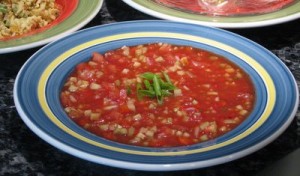 Dudson is made in England, and available in the US, including products designed for the restaurant and hotel tableware industries. The name was new to me when I found these large bowls in Dudson's Santa Fe pattern.
I'm rescuing beautiful china from oblivion, and letting it come to my home (or yours) so it can have more useful life. These have a hand-applied glaze, and using them on the table is also like painting with dishes by mixing and matching the tableware.
Large bowls like this are great for serving yourself -- perhaps a big dinner salad, an Asian noodle dish, or a big bowl of spaghetti. These are oversize, nearly 12 inches in diameter.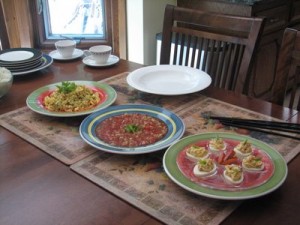 They are also useful on your buffet, as shown with some similar bowls in another pattern from the Dudson line. Your side dishes will go well in this kind of dinnerware.
My colleague Chef Lynn Miller, author of Flavor Secrets, made the delicious food: pasta salad, gazpacho and deviled eggs, which include a bit of leftover smoked salmon.
That's another example of how to use the last of something for a tasty result. Her filling: egg yolks, mayonnaise, salt, pepper and the finely chopped salmon, that's all.
Your serving pieces can be multitaskers for a versatile, creative table setting. Check this page for further tips to mix and match dinnerware on your table.




by