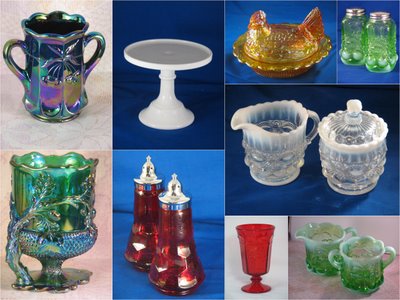 Glass accessories like goblets, cake plates, salt and pepper shakers or jam jars are guaranteed to light up your table setting ideas.
The shine and transparent qualities of glass are often complementary to your china dinnerware sets.
Glass has been used since Roman times due to its beauty, transparency and color possibilities. In Medieval Venice, glass artisans were kept on an island, lest they take their valuable glassmaking knowledge away with them to other places.
Glassmaking eventually came to America and numerous makers, especially in the east, founded factories in places where they could find the proper sand and other materials, as well as economical sources of natural gas to fuel their furnaces.
American glass manufacturers have come and gone, though a few are left. One of those makers, Mosser Glass of Cambridge, Ohio, has been making handcrafted glass for more than 30 years. I have visited the Mosser factory to see glassware in production, and developed an appreciation for the work necessary to produce this beautiful glassware.
Three popular Mosser glass patterns include:
Cherry Thumbprint or Cherry Cable. This pattern features a bunch of cherries and leaves, along with delicate cable detail along certain edges. The "thumbprint" notion comes from indentations near the bottom of the pieces. This pattern complements floral or fruit-theme table settings in particular, and those based on a cottage theme as well.
Georgia is a version of a traditional pattern called Georgian, made be a number of companies as far back as the 1930s, and still available in the secondary marketplace. This pattern has clean lines and an architectural look, and complements most traditional table settings.
Eye Winker is a frilly pattern that has lots of detail, including a band of oval shapes or eyes that run around the circumference of the pieces. This ware says Victorian, and can go with many romantic or cottage theme table settings.
Depending on the pattern, these lines include salt and pepper shakers, creamers, sugars, honey jars, spooners, and other pieces. We found this glassware to be charming, beautiful and well made. This handcrafted American glass can add a special sparkle to your table setting, especially to vintage, cottage or shabby chic themes. With proper care, your glassware can be beautiful for a lifetime, and even become your next family heirloom.
About the glassware, all Mosser pieces, from upper left.
Row 1: Cherry Thumbprint spooner in purple carnival, cake stand in milk white, covered hen dish in marigold, Eye Winker salt and pepper in green opal.
Row 2: Eye Winker creamer and sugar in crystal opal.
Row 3: Acorn spooner in hunter green carnival, Georgia salt and pepper set in ruby red, Cherry Thumbprint goblet in ruby red, Cherry Thumbprint creamer and sugar in green opal.




by