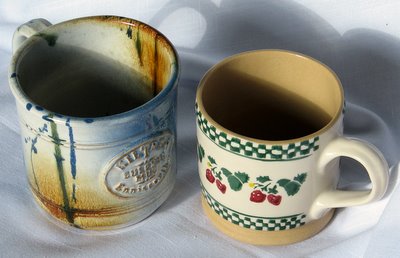 Souvenirs can come from many places, and be just about anything that brings back sweet memories from our travels.
I've got some Irish pottery mugs that do that for me. I like to get out my collectibles and enjoy them. Mugs are practical, small to pack, and easy to use.
In 2005, I made my first visit to Ireland, with a friend who had a bed and breakfast business on the west coast in County Clare. Of course we went shopping, and I found these beautiful mugs at a home goods store near the historic Bunratty Castle, not far from the Shannon River estuary.
The strawberry mug is Nicholas Mosse pottery, which is available in the U.S., usually through stores that specialize in Irish goods. The Culchie mug is by Kiltrea Bridge Pottery, which is available in Ireland.
Either of these mugs is great for a cup of tea, or cocoa and toast, a warm snack on a cool evening. Sizes large for the Mosse mug, and extra large for the Kiltrea mug. These mugs from my collection are there to warm hands and heart, as reminders of an enjoyable trip.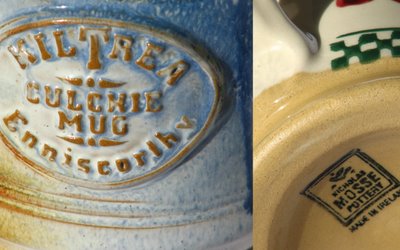 by