Hot summer weather seems made for ice cream sodas and root beer floats.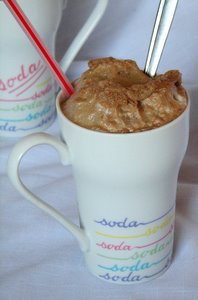 A scoop of vanilla ice cream, some good root beer (favorites are Stewart's and IBC at this house) and you are in business. Just be sure to make them right before you're going to enjoy them.
In Michigan we also have a Boston cooler, which is similar, but uses Vernor's ginger ale instead of root beer.
The floats are easier to make at home, because you don't need the soda water.
Of course, if you really must have a soda, there are ways to have the fizzy water at home, and you can get the flavored syrups, too.
Any way you like them, ice cream sodas and floats will hit the spot on a warm summer afternoon, or anytime you're looking to enjoy a vintage treat.
About the photo: China soda cups by Shafford, Sweet Temptations. Iced tea spoon by SRI, Love Leaf.




by