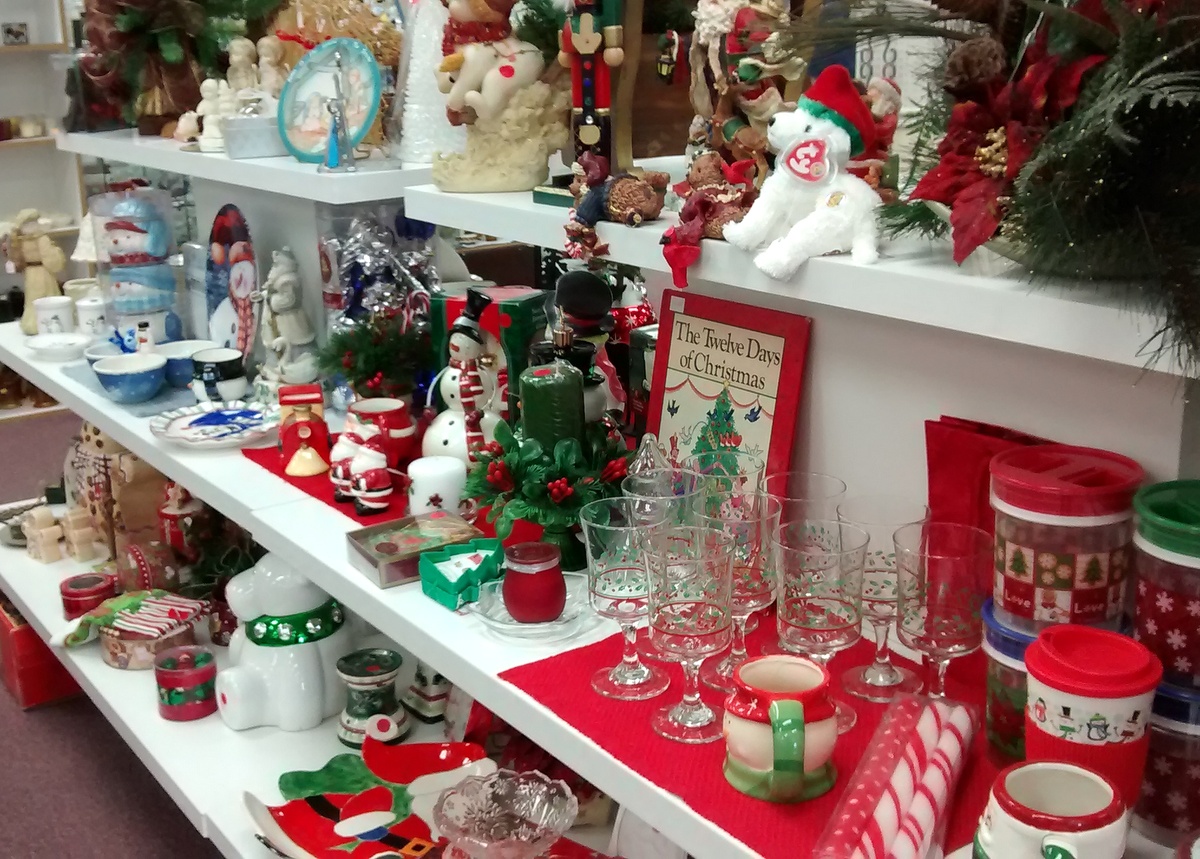 Vintage shopping for Christmas in July? No problem!
I had a great time visiting just three of my favorite thrift stores to see what I could find to add to my collection of holiday dinnerware. Why should new goods shoppers have Christmas in July all to themselves?
I have noticed that some thrift stores create a holiday section later in the year. Some have a mixed section all the time with Christmas, Halloween, Easter and whatever they have. Others have a dedicated Christmas goods section all year round.
I can always find Christmas goods when I look for them. They might be in solid "Christmas" colors, or include winter patterns and motifs, like snowmen, poinsettias or evergreen trees.
The permanent shopping list is a handy tool to keep track of any holiday patterns, piece types or motifs that you want to add to your collection.
Shop No. 1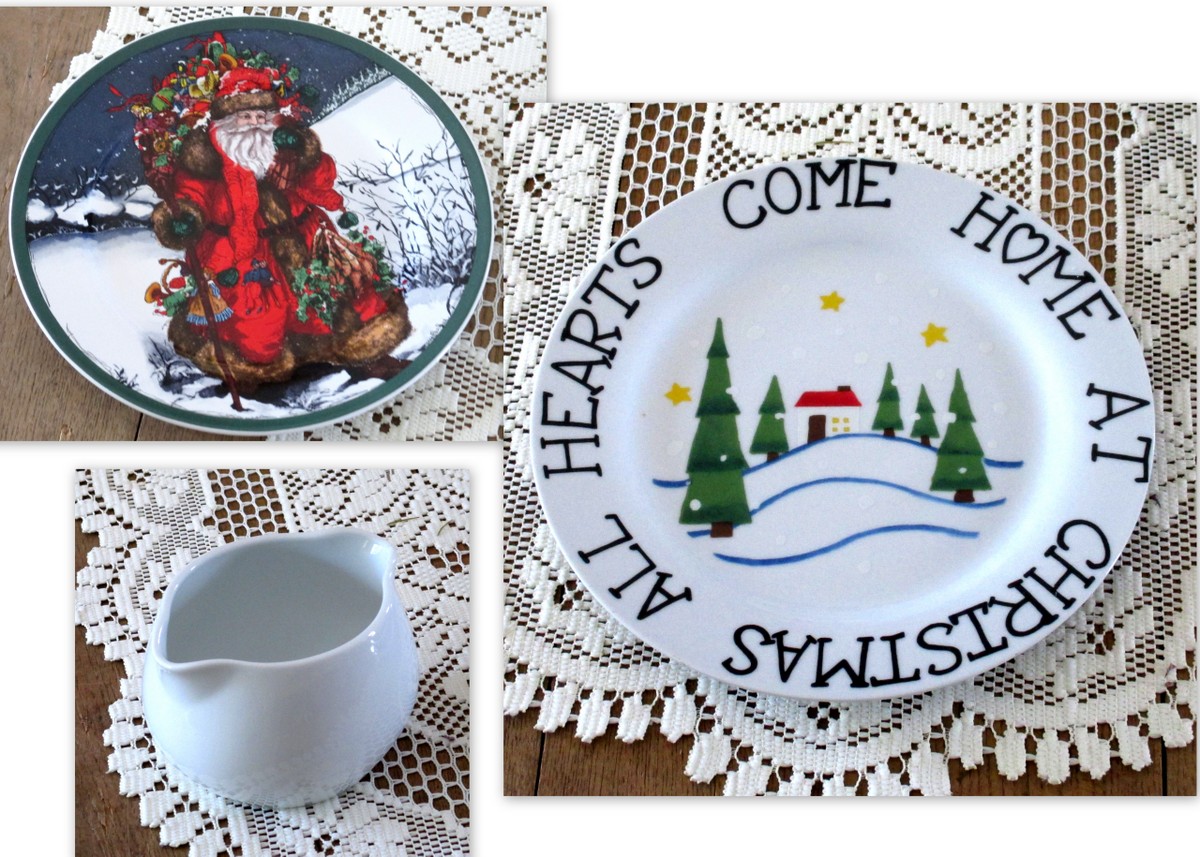 My first stop provided several items I can use for the holidays. There is a white gravy or sauce boat by Noritake in the Angela pattern. This sleek white piece can be used all year round for sauce or salad dressing. I'll put it on another plate and use a small ladle for guests to serve themselves.
The Santa plate is by Royal Norfolk. This piece could inspire a holiday color palette, or be used as part of a buffet centerpiece. On the back, it is indicated as not food safe, so it was only intended for decoration. I liked it, so I bought it.
Then there is the Hearts Come Home plate, for Santa's cookies, or a gift plate to use for sweet treats. This will work well on a buffet as well, for cupcakes.
Shop No. 2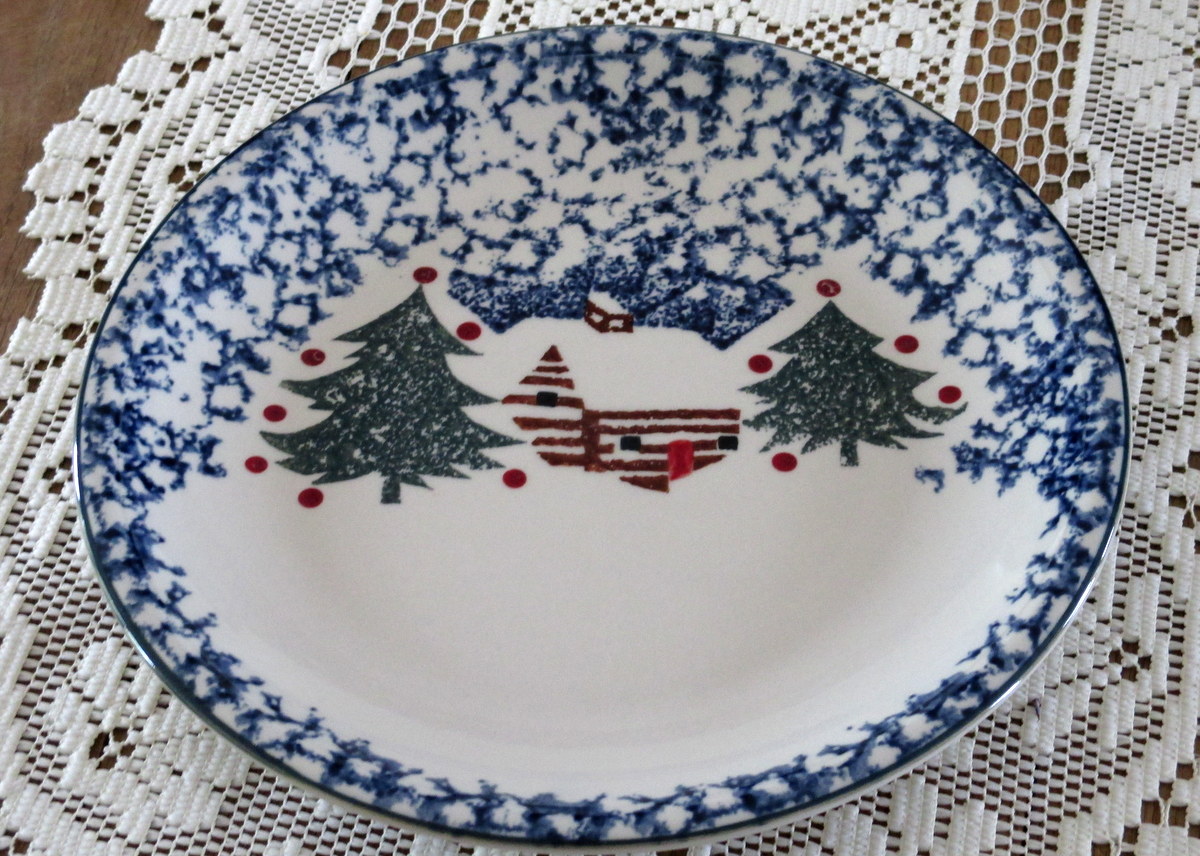 I found a whole service for four of the Cabin in the Snow pattern at my second thrift store, along with several extra pieces. I got one of the dinner plates. I have other pieces of this pattern already.
I like the winter charm and folk style of this dinnerware by Tienshan, and this is probably why this pattern is popular. The plate is shiny and bright, like it has been little or never used. It will make a special plate for cookies, candies or cupcakes on our holiday table.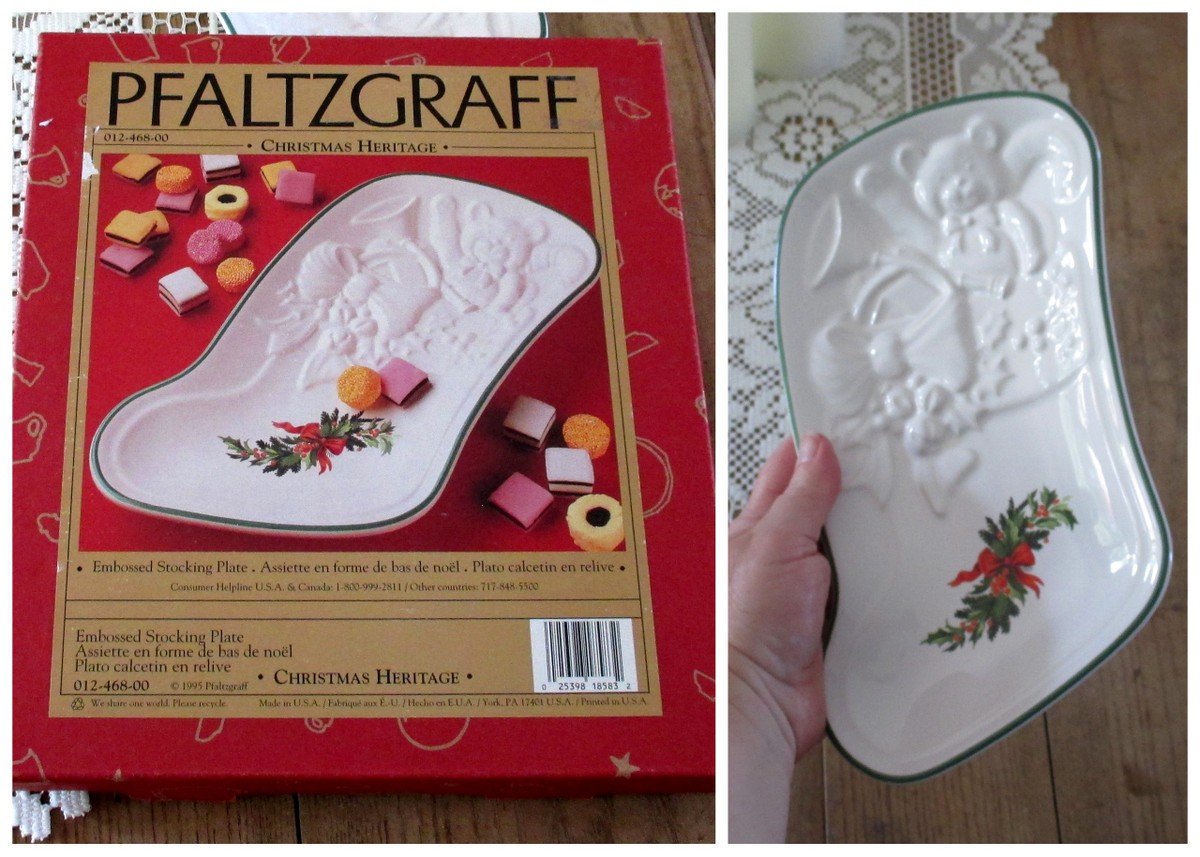 This store had part of an aisle devoted to Christmas, where I found this boxed plate in a stocking shape, the Christmas Heritage pattern by Pfaltzgraff.
This kind of shaped plate has lots of uses for gift-giving, if I don't decide to keep it myself. It looks new in the box. The embossed toy motif makes it a candidate to mix with other dinnerware patterns that feature Christmas toy motifs. If you have someone on your list who collects this pattern, what a sweet find this would be!
Shop No. 3
The best was the last, at least on the day I was shopping. This place had the most Christmas goods in one big display.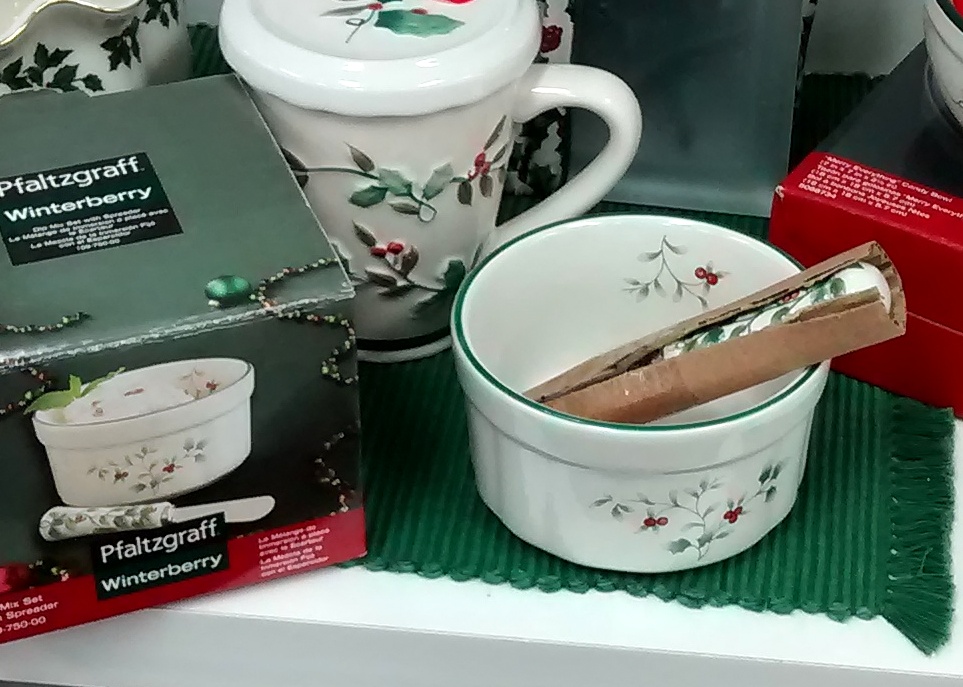 Dinnerware, glassware and other items were all mixed together, with a section given to blue and white, among the overall red and green.
This store spends time rearranging and gives a lot of care to merchandising the items, to make them appealing.
How nice of them to sell items with the original box, and in the case of this Winterberry dip server by Pfaltzgraff, with the original spreader as well. Looks like no one ever unwrapped it. This is the kind of thing I like to use to give a food gift like a homemade cheese ball (with recipe), or fancy candies.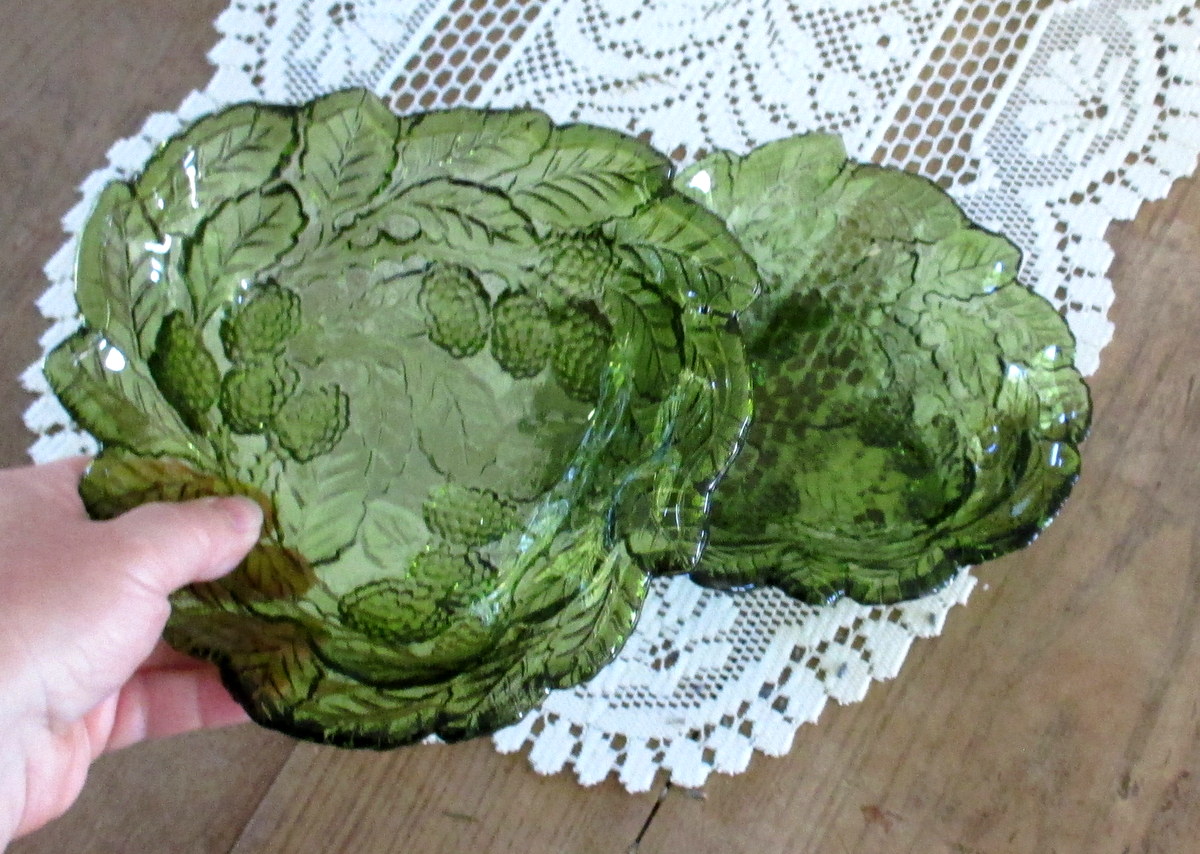 I got a couple more of the green Loganberry dishes by Indiana Glass. The color is a retro 1970s avocado green that works with my holiday collection. These are versatile dishes to use for foods like relish or pickles, or to serve the same food at several points along a table, making them handy for guests.
The Loganberry pattern can go into a fall dinnerware set as well, due to the color and the molded fruit and leaves motif. Indiana made this dish in amber and clear glass, too.
If you shop for dishes like these, check carefully for chips. They can hide in the molded edges.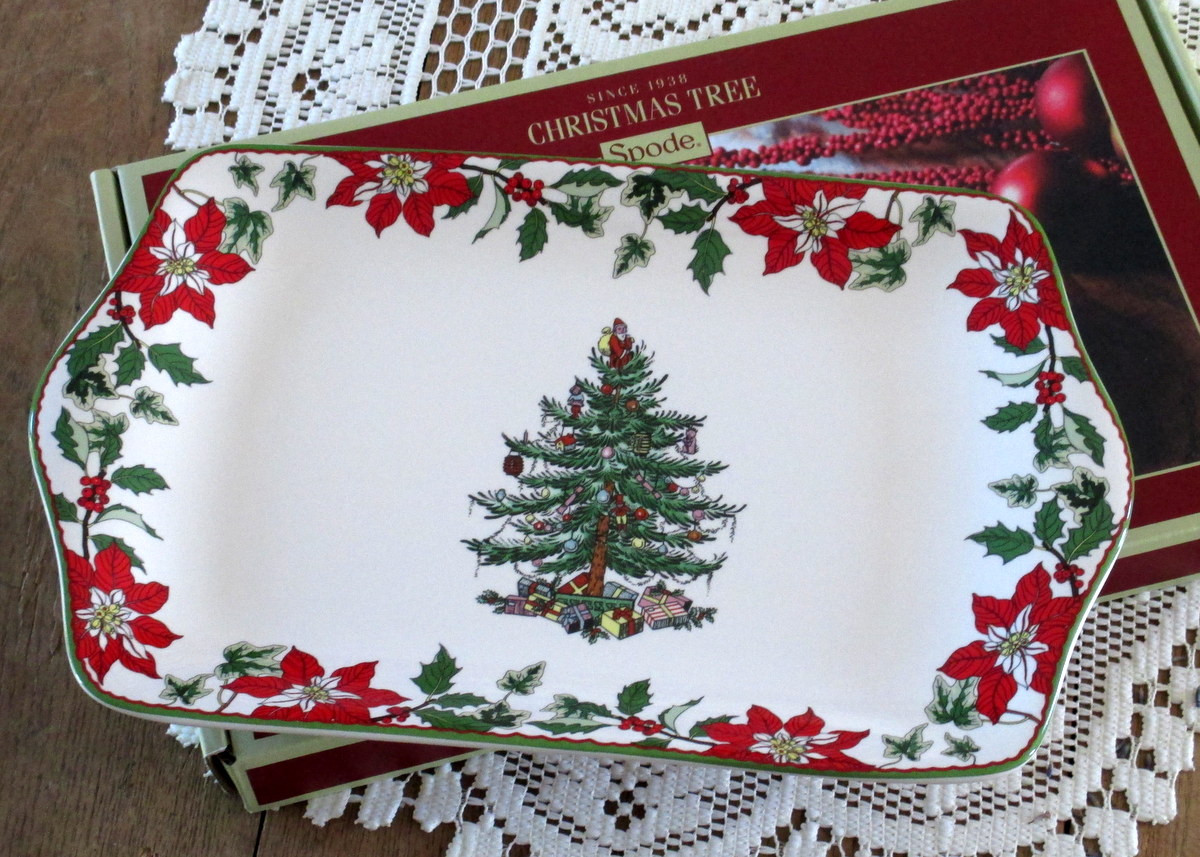 I went back for the Spode dessert tray in the Christmas Tree pattern. This is the 2014 version of this plate. It has traditional red and green colors, and I really like the poinsettia border. It also can complement Christmas toy patterns. This will look great serving cupcakes frosted in red and green.
I didn't know this pattern has been around since 1938. That means there is a lot of this dinnerware in the marketplace, as well as complementary items like melamine trays, carafes, ornaments and tier serving pieces.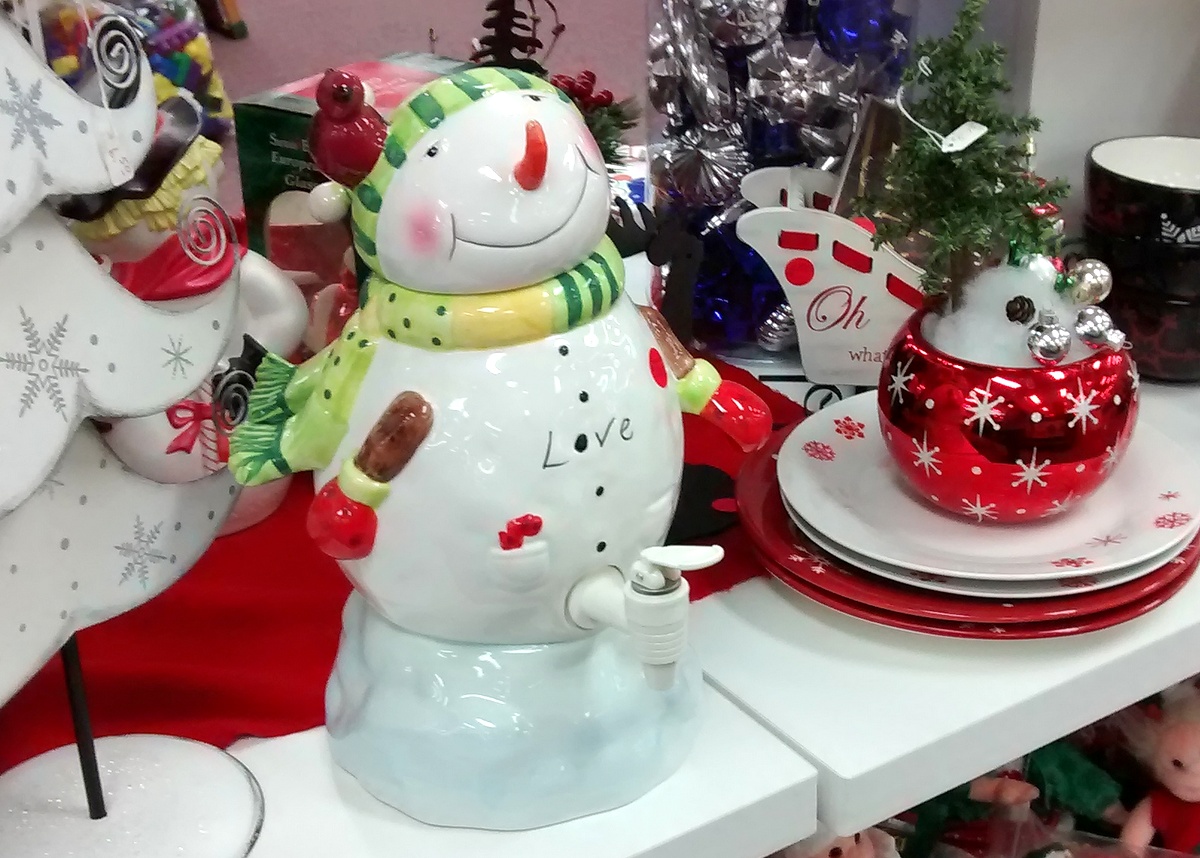 The time I spent on my special shopping trip added up to less than four hours, and the pieces I bought, less than $20. I had a ball with the thrill of the hunt. I got the satisfaction of being well-prepared ahead of a hectic holiday season. And I know I will delight some gift recipients with their vintage holiday items.
With more time, money and shops, I could create an entire new Christmas dinnerware set, or add plenty of pieces to take care of additional family members and guests. It might take longer to find specific pieces, but to satisfy the needs of a color scheme or theme. I've read that people are downsizing and that seems likely. More goodies for vintage collectors like us.
Oh, what fun it is to shop for vintage Christmas in July!




by