Time to wish my vintage china blog another happy birthday!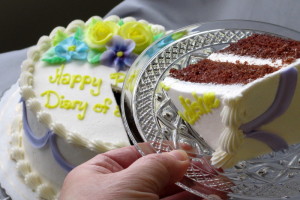 For year No. 7, I decided to go with some vintage clear glass, a theme that's a little more Big Girl than some of the prior, younger years. Just like you might have something new when your daughter reaches the seventh birthday milestone.
I've got a soft spot for glassware, especially the beautiful vintage pieces you can find in any thrift store or estate sale.
Glass is tough, because so much of it is not marked. I cannot tell you (yet) the names of the patterns for the pieces shown here. I just pick up what I like, and go from there.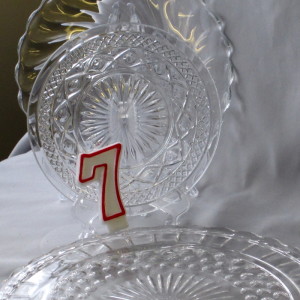 Here are a few things I've found:
Glass has color, even if it's clear. Some is bluer, some warmer. I generally favor the cooler clear glass, as that's my preference, but it is a personal choice.
The motifs and shapes are all over the style map as well. Sometimes I go for the simple shapes or geometric motifs, other times the floral. In a table setting, I find that settling on one style makes it easier to coordinate different patterns.
I approach glassware in the secondary marketplace with a watchful eye, and fingers. I assume any piece I'm considering has a chip or a crack, and I look and feel carefully for those. I may buy a piece with a flea bite, but I want to know about it before I make my final decision.
None of my vintage glassware ever goes in the dishwasher. (Nor my vintage china.) I've written about this before: dishwasher haze. It is disappointing to see wonderful pieces when I'm shopping that have been sandblasted in the dishwasher, and will never be clear again, unless they are wet.
Special Birthday Glassware
The glass cake plate and other pieces shown in this post are all recent purchases.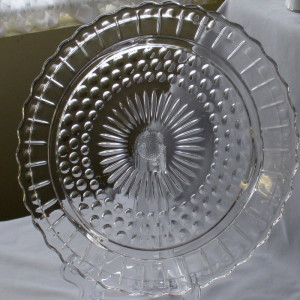 I liked the cake plate because it's flat, easy enough to slide a cake on, out of the bakery packaging. And it has a variety of motifs in the glass, so it can go several directions to complement other glassware pieces. The center is a sunburst or sunflower, the next band has dots, and the outer rim has geometric lines - all finished off with a gently scalloped edge.
The small plate charmed me by its clarity, and the shimmer that it has in the light. (It gets to show off the piece of cake.)
The swirl glass piece also intrigued me. It caught my eye from the first, with its a fine clarity, which it something I look for, as it says to me that the glass is high quality. This piece is also footed. It's small for a cake plate, but a giant cupcake would go quite well on this. And a small cake and this little stand would make a wonderful gift for the vintage lover who has everything. (In this case, that would be me.)
Vintage glassware is just another way to have your cake and eat it, too, in a manner of speaking. Use it for any occasion, or every day, and enjoy it before, during and after.
And so, Happy Birthday, Diary of a Dishie! Here's to many more years of collecting and enjoying the use of vintage dinnerware and glass!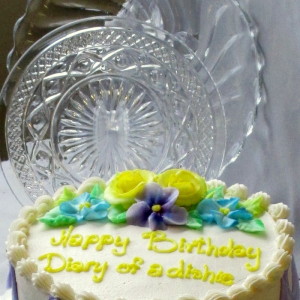 by