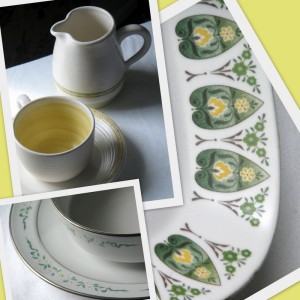 There are lots of choices when it comes to green and yellow vintage dinnerware sets.
Floral motifs, abstract and geometric patterns – with so many pleasing tones in these colors, dish designers have made them long-time favorites.
So, it was no surprise when looking through the real weddings on the vintage wedding blog Ruffled, I saw a lot of occasions where green and yellow figured into the color scheme.
Check these links for a few examples:
Those bright and sunny colors provide lots of options for an outdoor or garden wedding.
For anyone planning for vintage dinnerware -- if these colors speak to you -- I was curious. Could I suggest some vintage dinnerware patterns, with inspiration from these stylish weddings?
Some green and yellow vintage dinnerware ideas
Hacienda Green and Hacienda Gold by Franciscan. Another ware by Franciscan, as I've written about in other posts about vintage wedding dinnerware ideas. This earthenware china has a great look and feel for an event that features rustic or handmade elements. It can go western as well, or with themes that have a Mediterranean or Spanish vibe.
Springhill by Corning, in the Centura line. Futuristic for its time, and now vintage. Centura is the precursor to Corelle, and Corelle has been on the market for more than 40 years. This pattern has dainty flowers and ribbons, with platinum rims, on white.
Palos Verde by Noritake, in the Progression line. Funky and fun casual dinnerware, made in Japan. Great colors, shapes and motifs for a retro theme, like the repeating petals on the platter detail in the photo above. The plates in this pattern have a kaleidoscopic mandala in the center. This pattern dates from the late 1960s through the 1970s.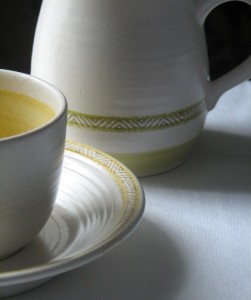 You will have abundant variety of dishes and glassware available to create your tablescape when tones of green and yellow – drawn from nature – fit your theme or color scheme.
Mixing and matching china using green and yellow vintage dinnerware gives charming variety to your special table setting.
About the photos: Collage includes creamer, cup and saucer in Hacienda Green and Hacienda Gold by Franciscan. Plate and bowl in Springhill by Corning. Platter detail, Palos Verde by Noritake.
Second photo shows Hacienda pattern detail.




by