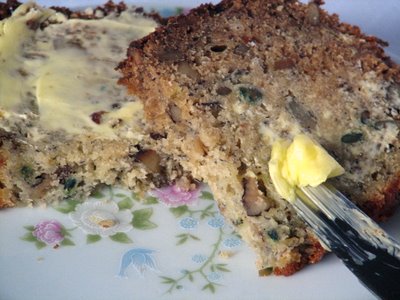 Not my grandma, but Chef Lynn Miller's grandmother's banana bread.
In my family, we have some recipe books that belonged to one grandma. The other was notorious for being, shall we say, a less than optimal cook.
Yet there is a deep food heritage in my family. The oldest recipes are based on German roots. The newer foods became favorites based on experiments with newer products, such as Jell-O, which became popular once home refrigerators became more common.
The list includes lots of Christmas cookies, lemon jello, smoked goose, candied apples, deviled eggs, potato pancakes, homemade applesauce, and what we call pot pie (the dumpling kind, where you drop dough into simmering broth, not the two-crust pie model). And there are others.
Late summer brings back many of those memories. Corn on the cob, homemade ice cream, using lots of ice and a hand-cranked maker.
So I can appreciate this banana bread recipe (from Chef Lynn's cooking and learning book, Flavor Secrets, page 142). I baked it in my Hartstone bread loaf baking stone, followed her instructions, and it came out perfect.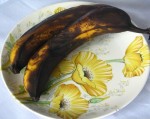 I used very ripe bananas to make this quick bread luscious and flavorful. Sometimes you can find the extra-ripe ones in the back room at the produce market. If not, plan ahead and let them sit out for a few days until they're ready.
The recipe calls for either black walnuts or hickory nuts, old-time Midwestern favorites. The black walnuts are easy enough to find, in specialty groceries, online and sometimes in rural farmers markets in late fall.
One thing that is also Chef Lynn-inspired is trying things. (Flavor Secrets is about kicking your cooking game up a notch, with 12 chapters of lessons and recipes to practice with.) So I put in a small handful of sunflower seeds to give the bread some extra texture. That's the green you're seeing in the photo.
This bread makes a great afternoon snack, lunchbox treat, and gift. August and September are good months to practice your baking, and make your plans for back-to-school and holidays soon to come.
As to serving baked goods in general, and quick bread like this in particular, your imagination can take it anywhere. Serve simply on a salad or bread plate for an individual treat, sliced thin on a multi-tier server for a party, or wrapped creatively for a sack lunch.
Anyway you slice it, this banana bread makes an enjoyable treat!
About the plate: Bird of Paradise by Crown Ming. A charming, grandma kind of pattern.




by