Glass relish dishes, and china ones, too, have been a mainstay of holiday dinner tables for many years. Because, you need them to serve the pickles!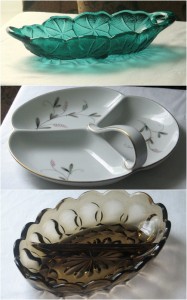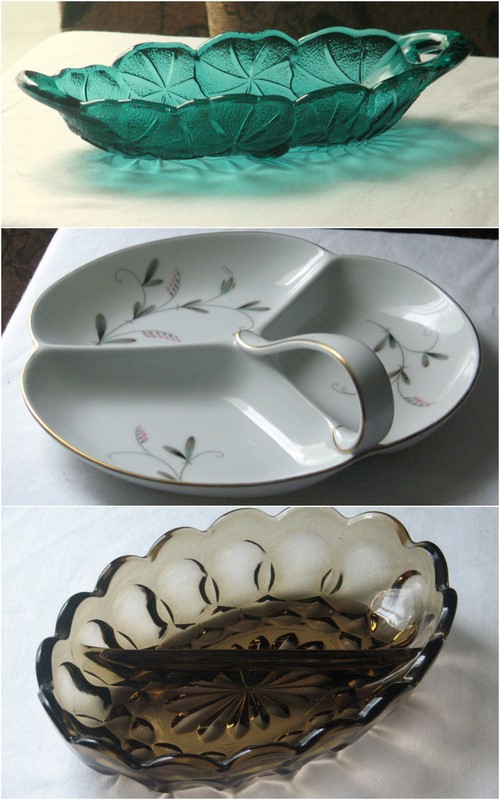 At home, we always had a relish tray for any holiday or special occasion. Pickles and deviled eggs were favorites on the menu.
A relish tray can include lots of different finger foods. The choices include pickles (sweet or dill, homemade or commercial) in all shapes and flavors. Then there's pickled watermelon rind, cocktail onions, radishes, carrot and celery sticks, olives, dilly beans, pickled beets – you get the idea.
And that doesn't include the relishes that are served with a spoon, like corn relish, piccalilli or chow-chow, sweet pickle relish and chutney in all flavors.
Most pickle dishes are on the small to average size, about 8 or 9 inches long if they are oval shaped. The relishes are meant to be a special accompaniment to the meal, a zingy bit of flavor to complement the rest of the foods.
Many vintage china patterns include one or more relish dishes. Some are two or even three part divided dishes. The larger, longer dishes were intended for celery (either raw or creamed).
A few examples of relish dishes
Teal glass relish dish in the Lily Pons pattern by Indiana Glass. This is a 1970s-era rendition of this charming pattern that features lily pads and flowers. No divider, which makes it easy for long celery pieces, or for a large serving of pickles for a crowd.
Three-part china relish dish by Noritake, vintage pattern. Vines, flowers and gold rims on white. The dividers will keep juice away from other relishes in the same dish. The handle makes it easy to move around on your buffet, or pass at the table.
Tawny brown glass, 2-part relish dish in the Fairfield pattern by Anchor Hocking. Another 1970s, retro color, in a traditional pattern that can dress up for a more formal event, or go casual for Sunday dinners, buffets and birthday parties.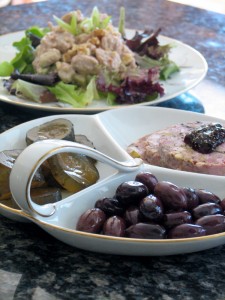 The Noritake china relish dish is also shown with homemade pickles, made by my colleague, Chef Lynn Miller (the recipe for Grandma Ogden's Sweet Pickles is included in her book Flavor Secrets: Back to the Basics), along with olives and her Chicken Terrine.
Glass relish dishes can coordinate with your dinnerware, as part of a mix and match table setting.
They can complement your china, and help you serve several different kinds of pickles or relishes, when the menu calls for them. It's fun to use these classy pieces, and enjoy some pickles, too!




by