Federal Glass was the maker of eye-catching, now vintage glassware, and pieces are still fairly easy to find in secondary marketplaces.
I especially notice the drinking glasses, tumblers and coffee mugs that I see in my travels. Thrift stores often have long rows of glass items, displayed on open shelves.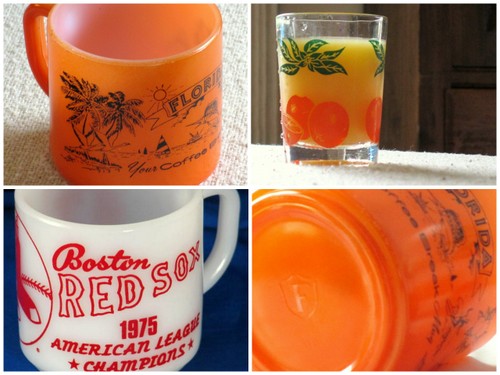 Look for colorful clear tumblers or vibrant glass coffee mugs, and just check the bottom for the mark.
Most of the glassware you will see is not marked. But Federal often is. The mark is a capital F inside a shield. It can be large or small, in the bottom center, or elsewhere on the underside of the piece.
Easy to Use and Enjoy
I like the glasses and mugs because they are easy to show on a window sill or curio shelf, handy to use for juice or coffee, and small to store in a box when I swap my collection on display. (I like to have pieces where I can look at them, but they won't all fit my space at the same time.)
The 1975 Boston Red Sox commemorative coffee mug is just one example of a classy Federal mug. Bright red on white glass.
The Florida mug has an orange coating applied over white glass, then further decorated with detailed line art in black.
The orange juice glasses have a charming two-color pattern. I also have a mold-blown carafe that matches these, but is not marked, as well as slightly larger juice glasses with a modified version of the design, made by Anchor Hocking.
Like lots of other vintage glassware, these pieces are fun to mix and match, to create your own special breakfast set.
Federal also made other glassware piece types associated with the kitchen, too, like mixing bowls and batter bowls. One of popular reference books by Gene Florence includes pages of examples. Depending on the purpose for your collection, there are more choices to fill out a vintage-style kitchen or retro home decorating theme.
If you get far into the world of Federal, be sure and do some research on the pieces and patterns. For example, Federal's Windsor pattern was only made by them in clear glass, but when the company closed, Indiana Glass purchased some of the molds, and made pieces in blue, green and other colors.
Federal Glass operated in Columbus, Ohio, from 1900 to around 1979. Eighty years of manufacturing means there are lots of beautiful pieces out there to help you make a unique collection of charming vintage glass.




by