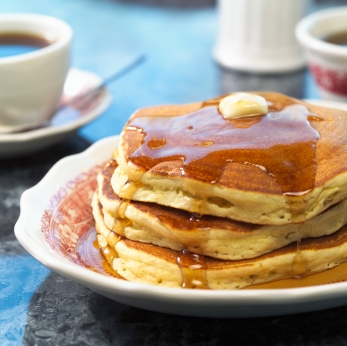 Maple syrup is so good on pancakes, French toast and waffles. Once you've had real maple syrup, it's hard to go back to ordinary syrup.
Glass or plastic dispensers make it easy to serve your syrup at the dining table. You can also heat a glass container in a bowl of hot water if you like your maple syrup warm. Many of the plastic models are microwaveable.
When the meal is over (because pancakes are great for breakfast, lunch or dinner) just put the server away in the refrigerator for the next time.
Glass servers are available in many styles to coordinate with your dinnerware. Pfaltzgraff produces glass dispensers in several styles to go with selected patterns of the dinnerware.
And check out that restaurant ware loaded with a luscious stack of hot pancakes, too.
Maple syrup comes from North America
Maple syrup is produced in New England, the Great Lakes and eastern Canada. Farmers tap their trees in the early spring, and boil the sap down to make this sweet, golden syrup. It takes about 40 gallons of sap to make one gallon of syrup, and it doesn't harm the trees.
Syrup is graded according to color and flavor. These variations are often compared to the different types of wine or beer. Lighter syrups have a lighter, more delicate flavor. Darker syrups are known for a more pronounced, robust maple flavor.
For use on your table at home, it comes down to personal preference. Grade A light amber is a favorite, but so are the darker grades including Grade B, with its knock-your-socks-off maple flavor.
Unopened maple syrup will keep indefinitely, but once you open a bottle of maple syrup, refrigerate it. Every weekend can be special with homemade pancakes and maple syrup, and your casual dinnerware will be a perfect choice to create a special family meal.




by