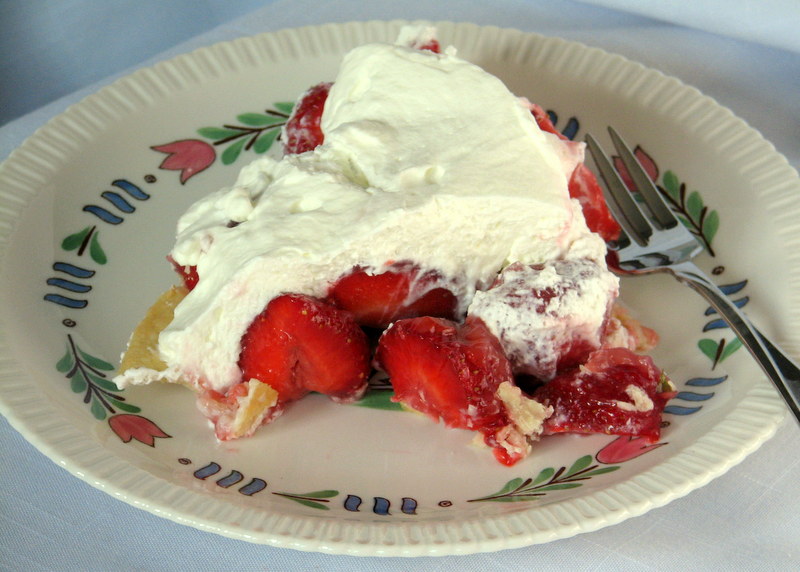 Pie, the most comforting of the comfort foods that we remember from childhood. At our house, cherry and pumpkin were often on the menu for family gatherings. My mother made her crust with lard, and it was very tender.
There's a cute song about pie in the movie Michael. Part of it goes like this, "Apple, pumpkin, mince and black bottom. I'll come to your place every day if you've got 'em." Pie means that all's right with the world. I'd have to agree.
When it comes to eating pie, it's simple after you get that pesky first piece out of the dish. You put it on a plate, or perhaps in a wide, shallow soup bowl if you will be having it with ice cream, get out your fork, and enjoy.
Many dessert plates that go with dinnerware sets are too small when it comes to pie. They are designed for more dainty desserts, like coffee cake, tiramisu or petites fours.
Some manufacturers have made plates especially for pie. They are generally about 8 inches in diameter, and many times sold in sets of four. I like to use my vintage dishes, and find that a generous salad plate works as well, as do luncheon plates, generally about 9 inches in diameter. A number of vintage china patterns included luncheon plates.
If you will be serving pie for parties or family gatherings this summer, check out the store and search "salad plates" or "luncheon plates" to find some great plates to use the next time you're going to enjoy pie.
Fresh Strawberry Pie
5 c. fresh strawberries, cleaned, hulled and big ones cut into pieces
1 c. water
½ c. sugar
3 T cornstarch
Pinch of salt
2 drops red food coloring (optional)
1 baked 9-inch pastry shell, cooled to room temperature
1 cup whipping cream
Clean and hull the berries, and cut the largest into bite-sized pieces. You will want them nice to arrange in the pie. Reserve about a cup of the smaller berries, to make the glaze filling.
Put 1 cup small berries into a saucepan along with the water, and cook over medium heat for about 2 minutes. Sieve this mixture, pressing lightly to extract as much juice as you can, without pushing through the seeds or pulp.
In a separate bowl, mix the sugar, cornstarch, and just a touch of salt. Add this mixture to the saucepan, and cook again over medium heat until it starts to thicken and clarify, about 5 minutes. Stir constantly. If you wish to add food coloring, add it at this point. (We left it out.)
Arrange half of the cleaned berries in the bottom of the baked pie shell. Pour over half of the cooked glaze. Repeat with the other half of the berries, then the other half of the glaze. Chill.
Meanwhile, whip the cream until it forms stiff peaks and spread over the top of the pie. Serves 6-8.
Enjoy!




by