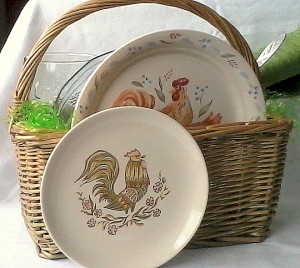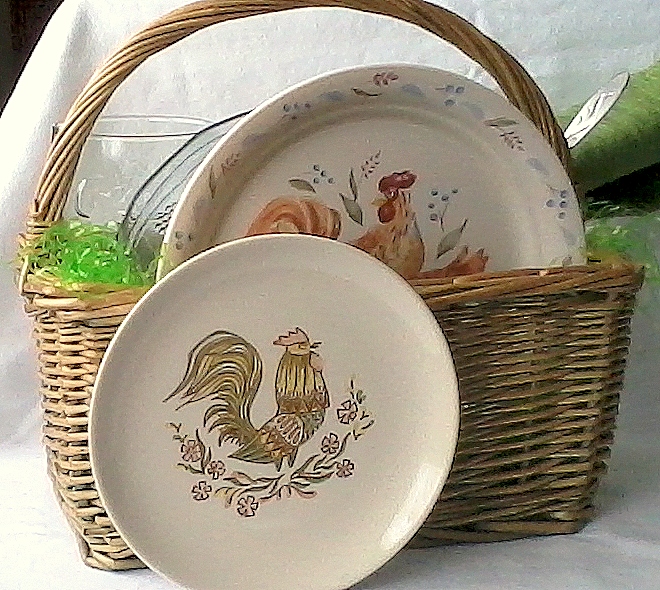 How much fun it is to create a one-of-a-kind Easter basket for someone who loves vintage dinnerware!
If you frequent thrift stores, you know the feeling. How can you leave that one cute plate or glass behind? Now you can assemble them into something lovely for special occasions, as gifts or décor.
Once you collect the dishes, glasses, flatware, napkins or place mats in favorite colors, or in patterns that feature Easter motifs, you can arrange them together into a memorable basket.
All the stores have their Easter goods in stock, and you can get plenty of ideas by browsing the shelves.
I'm showing what I made in the photo. I collected a few things and made it very quickly, once I had all the parts.
Find a basket and some Easter grass you have around the house, left over from making baskets for the kids, or purchase them any place where you shop. (You could also use a large bowl or pan, especially if this is to be a gift.)
Your favorite china pattern, styles or makers you collect, or something as simple as a color, can be your place to start.
Collect Dishes And Glassware
Dinnerware with Easter motifs like chickens, bunnies and chicks are available, in both vintage and new wares.
Glassware in green is popular, and there are lots of choices in thrift stores, and in department stores that sell new housewares.
Flatware can be added, too, when you find something unusual, or a pattern that you know will add to a collection. Stainless is very available, or go with silver plate when you find the right pattern.
Linens like napkins, place mats and table cloths, can complete the look, in solid colors or patterns.
What makes it say "spring" will be the colors and the motifs.
Your creative basket can be an Easter surprise. Or, a larger arrangement could serve as a housewarming gift, a shower gift, or a hostess gift.
A larger woven container could also be used as a centerpiece to show off some special finds or family heirlooms. This collection can also be arranged as a table scape to decorate your buffet or mantle, a focal point to enjoy for the entire season.
Throw in a chocolate rabbit, or some colorful jelly beans, if you wish!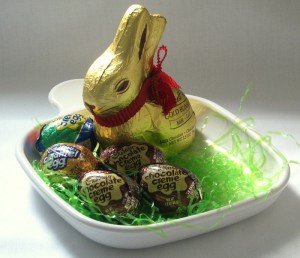 Simple Ideas Work, Too
You don't need any particular item to make a sweet Easter gift or decoration. Just something that uses the right colors or motifs. One thing can be your starting point for a creative approach.
A vintage Corning Grab It sandwich plate can make a very cute decoration. Just add some candy, plastic grass, and you have it.
Or use your green dinnerware as the basis for an eclectic table setting, and go from there.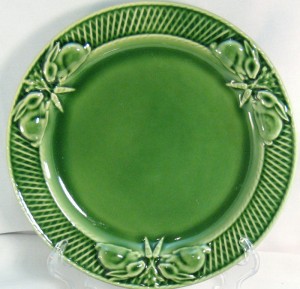 Spring is a season with lots of possibilities. Any reason to bring out your vintage treasures and enjoy them, or find some extra pieces to add to someone else's retro collection of dinnerware, glass or tableware.
In the basket: Corelle salad plates in the Country Morn pattern. Glass salad or luncheon plate in pale green with embossed grapes, made in France. Coca-Cola glass in green. Vintage bread plate in the Rooster pattern by Taylor, Smith and Taylor. Vintage Oneida stainless flatware. Green cloth place mat, 100% cotton made in India.




by