Franciscan china is one of my favorite vintage wares. I enjoy the warmth, casual charm, and easy Southwestern style of many of these patterns.
Franciscan began in the 1930s, as a brand name of the Gladding McBean & Co. pottery company in California.
The oldest Franciscan dinnerware was made in the USA, and later in Japan. Along the way, the co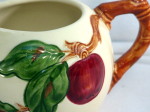 mpany was sold or merged with other makers. Later pieces were made in England. The newest pieces were made in China.
Two of the most popular Franciscan patterns are Desert Rose and Apple. These were made for more than 50 years. They are colorful and graceful in shape and style. Many people have these, and collect them, too.
If you want an absolute match between newer and older pieces in these patterns, be sure to check them out side by side on your table.
A mix of newer and older can give texture to your table setting, but you'll probably notice differences in color.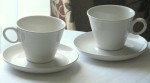 Franciscan made sleeker patterns during the 50s and 60s.
Patterns like Cloud Nine (plain white) and Fan Tan (understated decoration in earthy colors) from the Whitestone Ware line, and have a smooth, Mid Century Modern look and feel.
This is timeless, classic dinnerware.
Then there's Hacienda Gold (and its counterpart, Hacienda Green). This pattern has design roots in the funky, back-to-nature 1960s, and was made into the 1980s.
If you're in the right age group, you know what Harvest Gold and Avocado Green kitchens, were like, right down to the cookware and the appliances.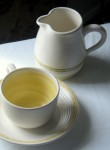 I like the Hacienda patterns because they are warm and homey, with soft, casual color. They are great for parties like Cinco de Mayo (May 5), or any other casual summer party.
The gold and green can be mixed to create as large a table setting as you wish.
I've written about Franciscan several times, including:
Check out these classic Franciscan dinnerware offerings to build your vintage china collection: