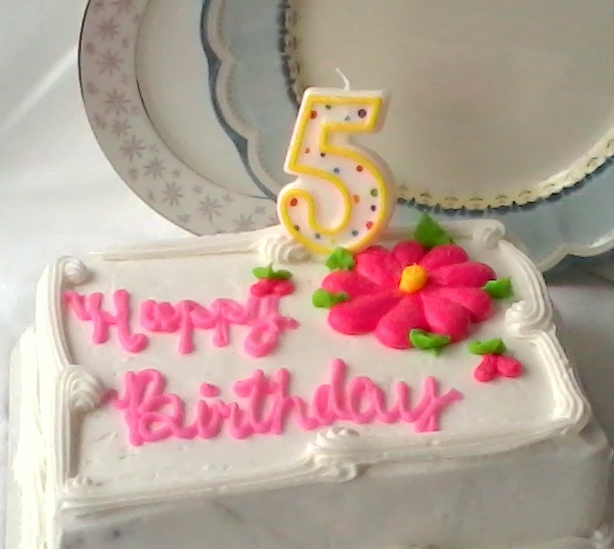 Any reason for a birthday party, and a decorated birthday cake to go with it!
The birthday blog gets a cake, even if we have to eat it on its behalf. Someone has to.
I like to look for the plates that will go with this year's birthday cake, and then get cake decorations to go with it. Or you could go the other direction, depending on your birthday party theme.
There's a simple formula that works for many events: choose your theme, choose your color palette, then get the dinnerware and decorations to support the look and feel you want for your event.
Keep the menu in the back of your mind, so that you'll have the right serving pieces to accommodate it.
For a birthday party, for example, if you want to present the cake on a stand, you'll need one that's the right size and shape. It wouldn't have to match your dinnerware, but it should coordinate with the dishes you'll be using.
Dishes For Serving Birthday Cake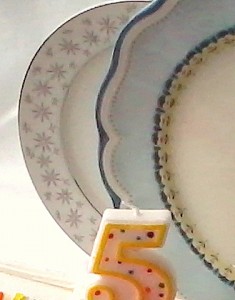 I choose two patterns to go along with our Diary of a Dishie 5th birthday cake.
Ines by Narumi
The plate on the left is in the Ines pattern by Narumi. This is the kind of dinnerware that you can often see in thrift stores. Might as well consider them as orphans. The pattern is from the 1960s, if not older. It's not listed on secondary sites like Replacements, probably because of low demand. You might find more if you look long enough. Or you may never see it again.
Charming vintage dinnerware like this is an ideal candidate for mix and match, unless you are lucky enough to get enough of the right pieces that you can make a special dessert or tea party set with it. Something less than dinner for eight, or even four, with all the matching piece types for a complete meal.
This is an opportunity. Birthday cake comes to mind. These vintage dishes are likely to go with other dinnerware in an eclectic table setting if you choose harmonious colors, materials and motifs.
I helped someone with a wedding reception a few years ago. This was exactly the kind of dinnerware she was seeking. Light colors with a subtle motif.
Provencal Sky by Lenox
The plate on the right is in the Provencal Sky pattern by Lenox, from the Provencal Garden collection. This dinnerware is available if you want to build a set. It has been discontinued for less than 10 years, but it was only made for a few years. So, it's available, though the quantity is certainly less than a pattern that had a longer run.
I love by Provencal Sky because it has a charming blue design, the ware is high quality, and it can be my special plate for a slice of pizza or a sandwich. The large salad or luncheon size, at 9.5 inches in diameter, also can work for a birthday celebration. The plate allows for a generous slice of cake and some ice cream. And you could even add a punch cup on the side, though there's no indentation to prevent the cup from sliding.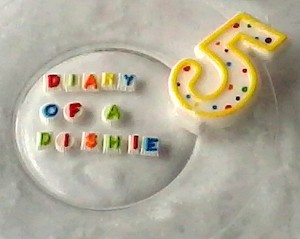 There are always ways to use the beautiful vintage dinnerware you find in your travels, or you couldn't help but purchase online.




by