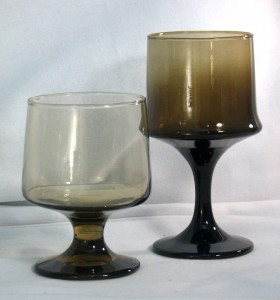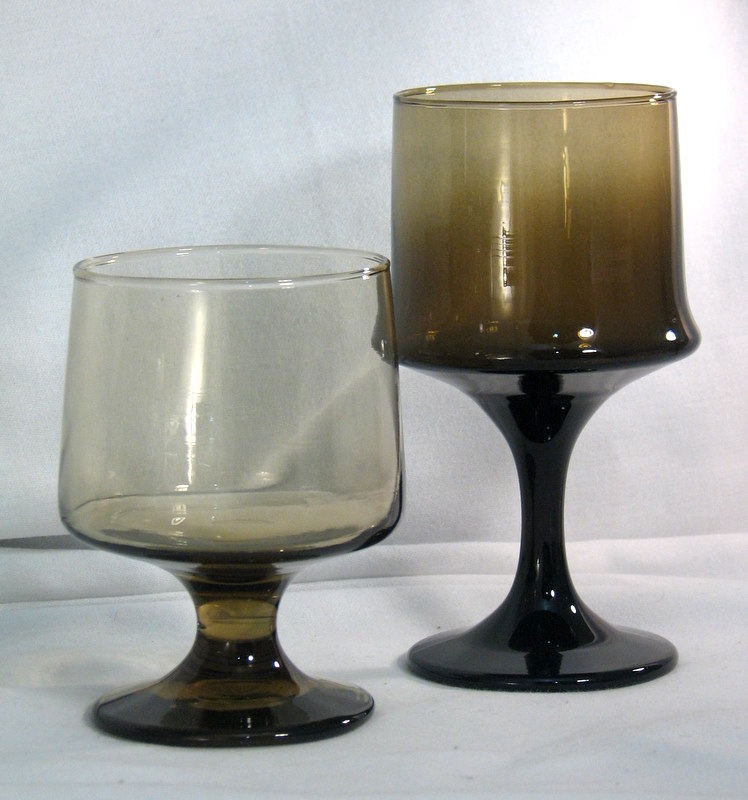 Out scouting today, I found some brown vintage glassware, the kind I especially look for. I love the sleek shapes of this glass, as do people who are looking to set a retro-style dinner table.
Brown is a great color for fall, and it trends in and out of fashion in general. Now it is on the "in" swing.
This color was also prominent in the 1970s, and the retro glassware in the photo is from that era.
A soft nut brown color, dark or light, is sometimes called "tawny."
Note the similarity and differences in the shapes, as well as the colors. Both have an overall sleek shape, and gentle curves in the foot and stem sections. The bowl sections show greater differences.
The lighter piece is an on the rocks glass, in the Accent pattern, by Libbey. The bowl is slightly tapered from its bottom to top. This pattern dates from the mid-1970s.
The darker piece is a wine glass in the Impromptu pattern, also by Libbey. At the bottom of the bowl, there is a flare. Otherwise, the sides are straight. This pattern dates from the 1970s, into the early 1980s.
Both these patterns included a number of different piece types, standard drinkware and barware forms, such as goblets, tumblers, double old fashioned and sherbet/champagne glasses. These pieces are out there to be found in various secondary marketplaces.
Brown goes with bold colors and neutral colors. It is warm and homey. It can anchor bright and vivid colors in a tablescape, and give dramatic elegance to pale colors. It can dress up or down, to go with formal dinnerware (especially those patterns with gold tones) or complement a casual table setting.
It's great to see how everything old is new again! Both of these brown vintage glassware patterns will say "retro" in your eclectic fall table setting.
About the photo: Vintage glassware in tones of brown. Tawny Accent and Tawny Impromptu. Both by Libbey.




by