Some years ago, at a carry-in lunch, a colleague brought a great Broccoli Salad.
I liked the interplay of the crunchy, raw broccoli with the zingy sweet and sour dressing. But the recipe was missing in action.
So I went home and developed my own version. It's great in the summer, when cool salads are refreshing. And a great way to get some vegetables. Lots of good-looking broccoli is coming into our markets in late summer.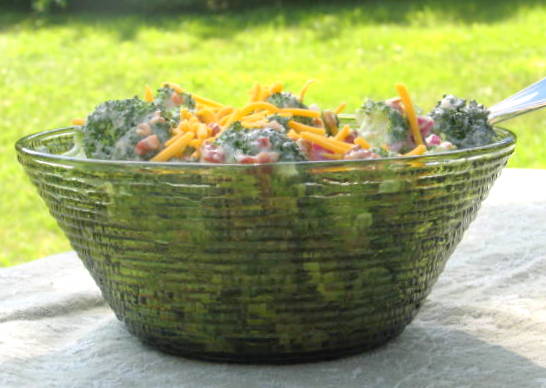 We also like serving it in the retro glass bowl, Soreno by Anchor Hocking. This version is the avocado green color. Another cool way to go green...
Broccoli Salad II
2 bunches broccoli, flowerets only, well washed
1 c. coarsely chopped pecans
1 c. raisins
½ c. red onion, chopped fine
2 oz. jar real bacon bits
¼ c. grated sharp cheddar cheese for garnish
Dressing
1 c. mayonnaise
½ c. sugar
¼ c. white vinegar
Mix salad ingredients in a bowl, except for cheese. Separately, mix dressing. Best if the dressing is made the day before serving. Refrigerate overnight. When you're ready to serve, mix the dressing and salad, then sprinkle cheese on top.
I like to use the bacon bits that come in a jar because they're very convenient, but you can use bacon you fry yourself as well. Ordinary raisins work well, but you could also use Sultana raisins if you like. Also, if you prefer English walnuts to pecans, that's an easy substitution as well.




by