Why should pie have all the fun?
Blueberries are in season, and these scones are easy to make. Quick to bake, too, so the house doesn't heat up.
And, I get a chance to use one of my vintage favorites: a pie plate in the Lancaster pattern by Syracuse, vintage china from the 1950s.
If you like hand painted charm and folk patterns, this could be one for your vintage shopping list.
I like them for their generous size, too, about 9 inches in diameter.
I've written about these Syracuse china pie plates before.
As for my scones, I could use a little practice cutting them, though these taste just fine. And the texture is just right. You don't want to overwork this dough.
My recipe is adapted from a couple of sources.
Blueberry Scones Recipe
1 cup fresh blueberries, washed and well drained
1 ¾ cup flour
2 ¼ t. baking powder
1 tablespoon granulated sugar
½ t. salt
¼ c. softened butter
1/3 cup half and half (or cream)
2 large eggs, beaten (reserve 2 tablespoons for egg wash)
(Extra flour and sugar for later steps, too)
Preheat oven to 450 degrees. Butter a cookie sheet and set aside.
Mix the flour, baking powder, sugar and salt in a bowl. Cut in the butter with a pastry blender until well mixed.
Add the eggs and half and half. Mix with a few quick strokes. Gently fold in the blueberries.
Turn out the dough onto a lightly floured board and pat to about ¾ inches thick. Cut into diamond shapes or 2 inch rounds with a biscuit cutter.
Carefully transfer to cookie sheet, and spread egg wash onto each piece. Then sprinkle more sugar onto each scone.
Bake for 15 minutes, until nicely browned. Enjoy warm from the oven, with some good butter or jam.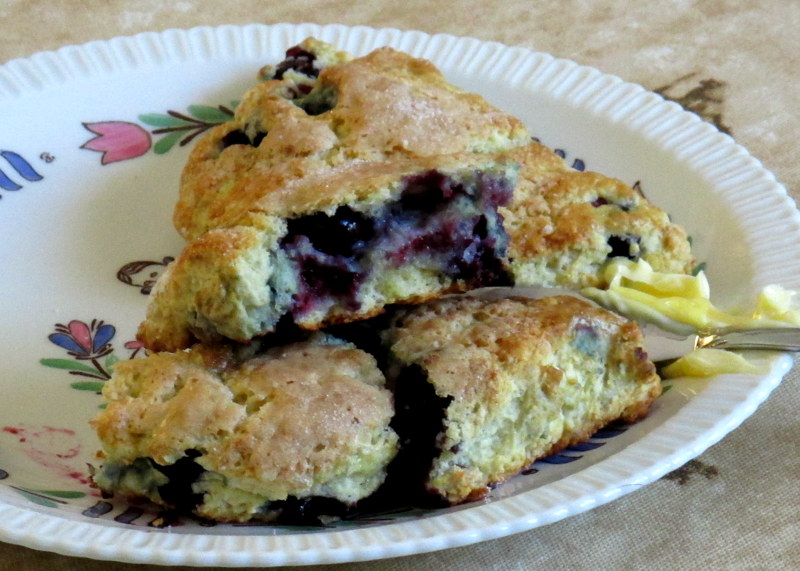 I enjoy using my vintage china, and the special treats made at home.
Midnight snack, anyone?




by