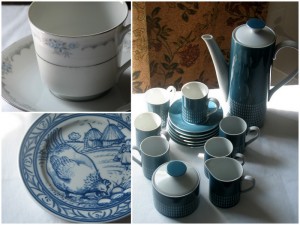 Blue is a restful color. Add white and look sharp!
Blue and white dinnerware can go formal or casual, to convey a simple charm to your table setting: calm, cool and classic.
Choose a dinnerware maker, and look for their patterns that incorporate blue. You'll find hundreds of china patterns based on a blue, or blue and white color scheme.
I've written about blue and white dishes before. They always have a special place in my heart...and my china cabinet! They are ongoing favorites to use and enjoy among my dish collection. (My favorite Summer Chintz pattern china has a bit of blue among the flowers, too.)
I also agree with those who like light-colored dinnerware to present food. White lets the food take center stage, and the dinnerware becomes the beautiful, but supporting, cast. (I'll admire the tablesetting separately...)
Some blue and white dinnerware choices
Anniversary by Style House. Vintage Japanese porcelain dinnerware with dainty blue flowers, gray leaves and swags between the floral bouquets. Platinum rims and trims. Think ladies looking for a nice china set for parties or tea. Just get out the white gloves and lace doilies.
Brittany by Williams-Sonoma. A contemporary pattern in the French Country style. Hand decorated with blue on white, with scenes of farm life in France. The photo collage shows the hen plate, from the complete set of six. The other views are rooster, sheep, cow, ducks and pig.
Retro pattern No. 4777 by Harmony House. A 1970s-era vintage espresso coffee set, with the pieces needed to enjoy small cups of strong coffee. All the pieces are in scale with the small cups, which hold about 3 ounces. With espresso, that's enough. This pattern was also made in brown and black, and is hard to find in any color.
I find that many shades of blue can mix and match in a table setting, easier than tones of green or yellow might mix.
In a blue theme table setting, having harmonious materials – such as all fine china, or all stoneware – is more important to me.
Also, how do the styles work together. Traditional pieces, modern or casual – pick one to predominate and let the other pieces come in as bits of contrast.
You may be surprised how the harmony of blue can bring eclectic china pieces together in a creative table setting.
Blue and white dinnerware can be a theme for your next gathering, just choose the type of china that will best serve the type of event, and let your table setting evolve to complement the party!




by