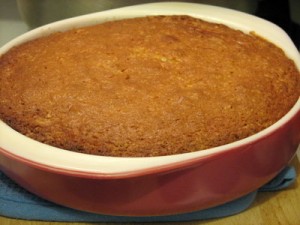 Pyrex made these round baking dishes, for layer cakes and similar desserts, in the 1950s and 1960s. We eat more pie than cake at our house, but these dishes work quite well for upside down cakes, coffee cake and similar, single layer cakes that are handy for snacks and quick lunch accompaniments.
And they are deep enough to use for a deep-dish pie if you like. This baking dish would also be handy for roasting vegetables in pinch, if you're only doing a small quantity and want to make best use of your oven space.
We've seen them in clear glass, and in plain the white glass, and the white with applied color on the outside, like the flamingo pink example in the photo. The handles make them easy to move when they're hot. They wash well (hand wash only please, especially for those with applied color).
Baking spray works well to grease these dishes, but we recommend wiping the excess off before you place in the oven. That way the cleaning will be easy.
Check out our Blueberry Upside Down Cake recipe or Pineapple Cherry Upside Down Cake at Detroit Baking Examiner for examples of cakes baked in this dish.




by