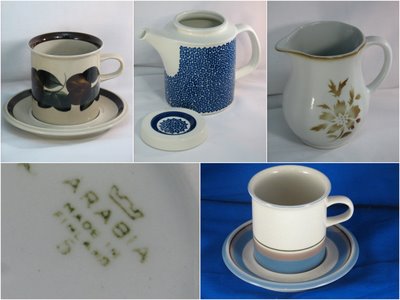 Arabia is made in Finland...go figure. And whether you pronounce it ah-RAY-be-ah - or ah-RAB-e-ah - it is beautiful stoneware, often with a retro look and feel.
The first time I saw this china, I'd never heard of it, but liked it. I found the blue striped Uhtua pattern. It was so unfamiliar that I could not be sure which of the marks was the pattern name, and which was the maker name. But any china that has blue on it gets my attention. How can you go wrong with blue dinnerware?
Whenever I find Arabia in my travels, I have to say "you are mine," at least temporarily. Once you become familiar with some of the patterns, the colors of the glazes and the distinctive shapes will catch your eye in any pile of dishes. Arabia stands out from the crowd.
The Arabia factory has been around since the 1870s and this ware continues to delight anyone who likes a creative table setting. People continue to love it for its classy and clean Scandinavian lines, bold colors, and durable beauty.
About the dishes. Clockwise from upper left: Cup and saucer in the Ruija pattern, coffee pot in the Faenza Blue pattern, pitcher with stenciled floral motif, cup and saucer in the Uhtua pattern, Arabia mark.




by