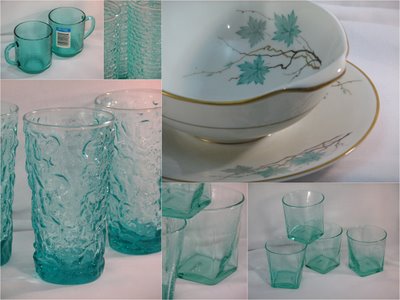 Every time I've seen aquamarine glassware, it has caught me eye. It's a color from the late 1960s, early 1970s. Of course, what goes around comes around, and this sea green variation is back as the turquoise of 2010 fashion and style.
Global color authority Pantone declared 2010 as the year of turquoise, referencing its color no. 15-5519. This green shade of turquoise combines "the serene aspects of blue" with "the invigorating aspects of green," according to the company.
This color is reminiscent of tropical lagoons and some mountain lakes. A blue version of turquoise was the selected color in 2005.
Dinnerware fashions come and go, and turquoise is no exception. Whether they are an exact match, or close complement, there are retro and vintage dinnerware and glassware patterns, as well as some new ones, with colors that fit into the green-blue turquoise or aqua category.
Some of these wares are solid turquoise or aqua green in color. Others have mixed color combinations. Some of our favorites include:
Bryn Mawr from the Parisienne line by Royal Jackson
Meredith by Lenox
Sunshine Orchard by Mikasa
Boulder Ridge by Noritake
Tempo by Style House
Aquamarine glassware in the Milano and Soreno patterns by Anchor Hocking
Aqua glassware in the Eye Winker pattern by Mosser
There are many more patterns that include the color turquoise in dinnerware and glassware available in both the new and secondary marketplaces.
At our house, anything that goes with blue can mix in a table setting, and this color will be easy to use.
Make mixing and matching table settings up to the minute in 2010 style by including some turquoise, aqua or aquamarine in your color palette. Your vintage wares can sparkle with some up-to-the-minute style, and your table setting ideas will come to beautiful life, for events of all kind this year.




by