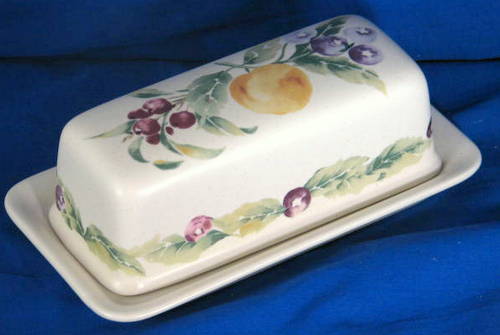 Pfaltzgraff has a discontinued pattern called Jamberry. It makes my list of dinnerware patterns that are sweet for this time of year, when my craving for fresh fruit pops up as quickly as daffodils on a warm spring day…
The Jamberry pattern of stoneware china includes dessert bowls (the small ones for applesauce or fruit), and a larger salad or cereal bowl in the table setting.
Rhubarb shortcake is at the top of my dessert list for April. At home, Mom made Rosy Cobbler. The recipe probably came from the Bisquick box.
Rosy Cobbler is a great dish to serve in your coupe shape soup bowls, or deep ones sometimes called cereal or ice cream bowls. It's a broad shouldered dessert. A larger bowl will give plenty of room for the sweet-tart rhubarb juices (and bit of cream if you like) as you enjoy the first fruits of spring.
Rosy Cobbler (Rhubarb Shortcake)
¾ to 1 cup sugar
2 tablespoons cornstarch
4 cups of 1 inch slices rhubarb (1 pound)
1 tablespoon water
1 ½ tablespoons butter or margarine
¼ teaspoon cinnamon
Mix sugar and cornstarch; stir in rhubarb and water. Heat to boiling and cook 1 minute, stirring constantly. Pour into 8-inch round baking dish. Dot with butter and sprinkle with cinnamon. Top hot rhubarb with Biscuit Topper. Bake at 350 degrees for ½ hour.
Biscuit Topper
1 ½ cups Bisquick
1 tablespoon sugar
3 tablespoons melted butter or margarine
1/3 cup milk
Combine Bisquick and sugar. Add butter and milk; mix with fork. Drop by spoonfuls on rhubarb. Sprinkle dough with a bit of sugar for sparkle.
...and when it comes out of the oven, enjoy!




by