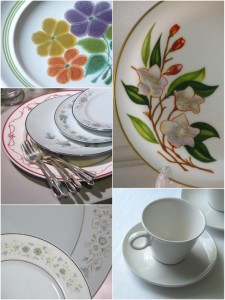 When it comes to vintage wedding dinnerware, there are lots of ways to create a wedding using it, to incorporate this china into the plans surrounding your special day.
I think that meaning is the single most important factor. How does the dinnerware fit with the theme, or even form the basis for the theme?
Considerations for choosing vintage dinnerware
Motif: a certain flower, a garden theme, nautical or lighthouse designs – any of these can be found on dinnerware, and used as part of the wedding celebration if they are relevant to the bride or groom
Style: a sleek contemporary wedding, vintage decade, or retro theme that echoes the parents or other generations past in the families
Any of these elements can be a place to start, and build upon, when your wedding plans are in their early stages.
Practical matters may mean that you use vintage dinnerware in a supporting role. China teapots, cups or plates can be included in a centerpiece or a display of cherished family keepsakes.
Dishes that fit the theme can be used for a rehearsal dinner buffet. Or, 100 small bread or salad plates – in grandma's china pattern – on a cake or dessert table. Or, vintage china just on the head table, with the caterer's dinnerware for the rest of the guests.
After the wedding, for the days to come, a vintage dinnerware set might be the one you choose to collect, the one that will become your family's special occasion dinnerware for years to come.
That special, vintage wedding dinnerware pattern that found its way into your wedding theme might just start a tradition. Vintage china could basis for a new family custom, enjoyed for many years in the new family, created on your wedding day.




by