I find vintage glass pitchers like this one pretty often in my travels. They come in handy on hot summer days, to serve some lemonade or iced tea.
There are many sizes and styles to be found. For beverages, the larger ones are designed to hold enough of your favorite drink to serve several people.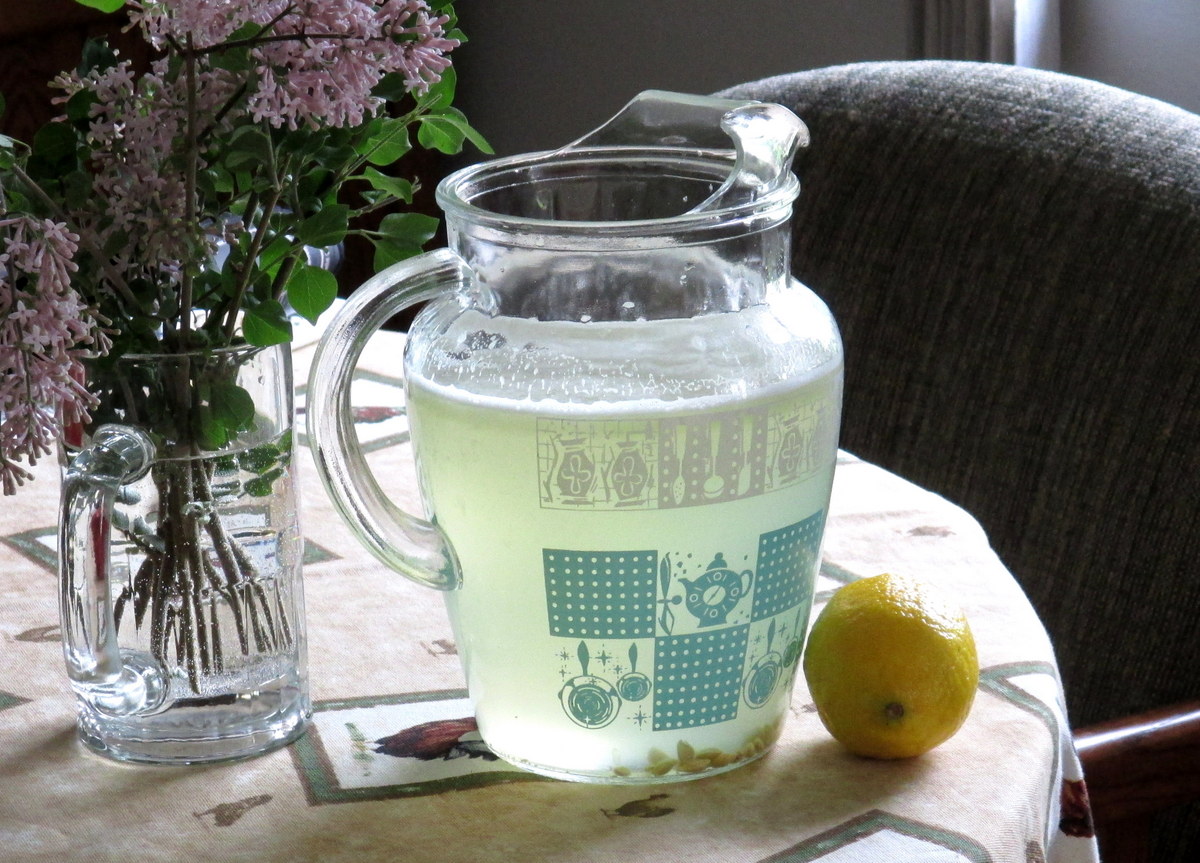 This one is called an "ice lip" pitcher, due to the extra glass around the spout, which keeps larger ice cubes in the pitcher as your pour.
A pitcher like this has a large capacity, more than 2 quarts before the ice. Some models are closer to a half gallon.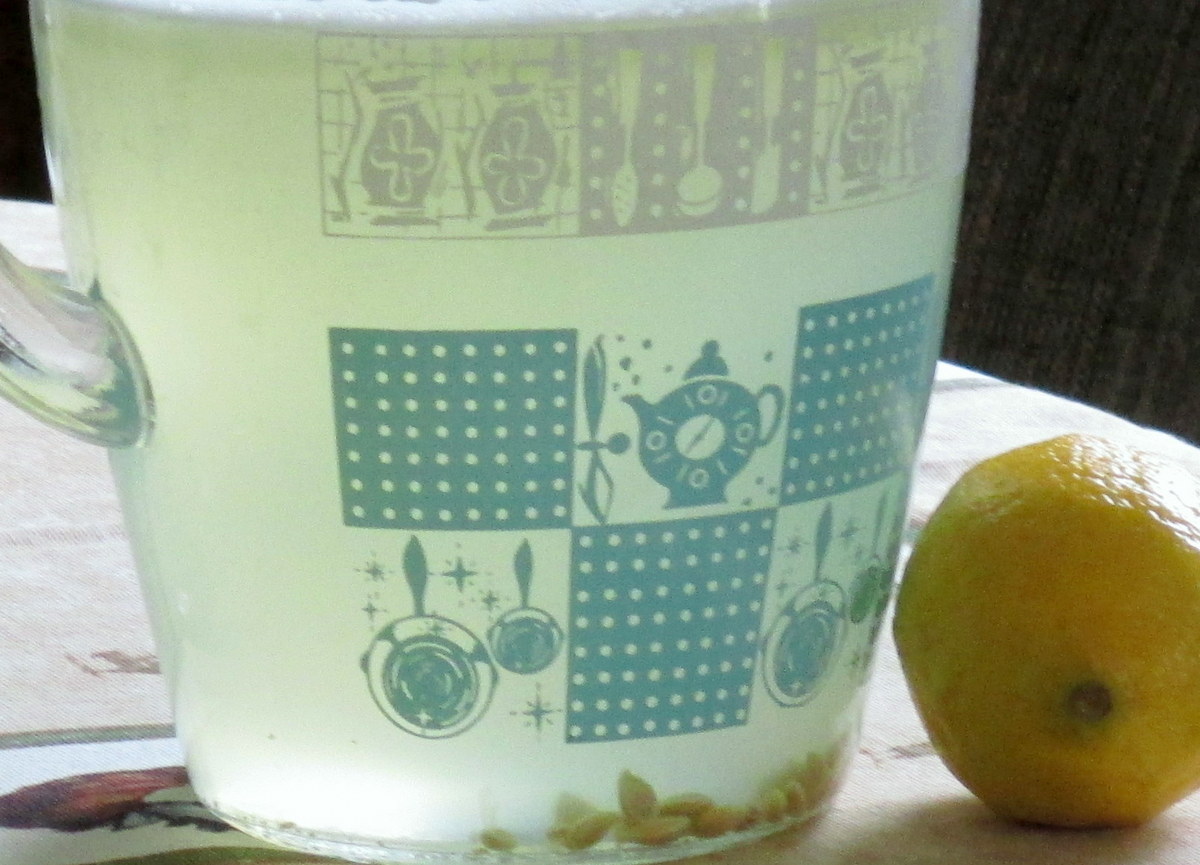 The motif is a 1970s-style, Americana concept, though I have not yet identified a pattern name. This pitcher was probably made by Libbey or Anchor Hocking.
It was easy to mix up some homemade lemonade in this, put plastic wrap on top and refrigerate. Then add ice when ready to serve, after a long, active day, perhaps gardening, or even vintage shopping!
Just Add Homemade Lemonade
I went looking for a recipe for homemade lemonade after trying several store-bought brands that just didn't give me the flavor I was looking for.
They are good, but some of them also contain sweeteners that I want to avoid.
Here's the recipe for homemade lemonade that I came up with:
1 cup fresh squeezed lemon juice, about 4 large lemons
6 cups cold water
¾ cup granulated sugar (or to taste)
Add the water to your pitcher, then add juice and sugar. Stir well and chill before serving. (I add the fruit pulp, too, because I like it.)
As simple as it gets, right?
I like my lemonade tart, so I used the least amount of sugar I thought reasonable. If you like yours sweeter, you could go with a whole cup of sugar.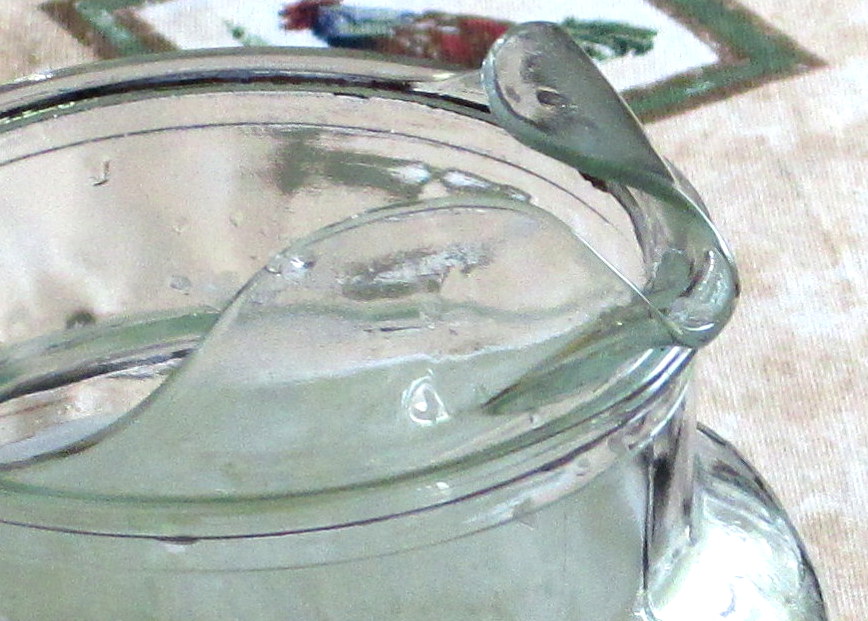 When you find a pitcher like this, as with all glassware, check carefully for chips. The ice lips and pour spouts can take a beating and I would not use glassware for serving beverages if it has been chipped in these areas.  (It could go as a vase, if I otherwise had to have it.)
If the handle is damaged, I'd also have to pause.
I think that glassware cleans up well, with little chance that flavors of prior drinks can remain. I always hand wash my vintage finds in hot, soapy water, using a product that does not contain lemon.
When you are shopping for vintage pitchers, be sure to look at the high shelves in your local, brick-and-mortar secondhand shops. Many of them put taller glassware like this up and out of the way.
Summer is a good time for vintage shopping, and for cool drinks.
The next time I make lemonade, I'll make a double batch. One for the pitcher, and one to freeze for ice cubes to make my lemonade as cool and refreshing as I can get it.
And when I see a vintage pitcher, I'll be looking to add to my collection if it is the right fit in condition, color and style. It doesn't have to match, just complement my favorite glassware finds.




by