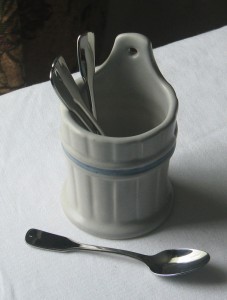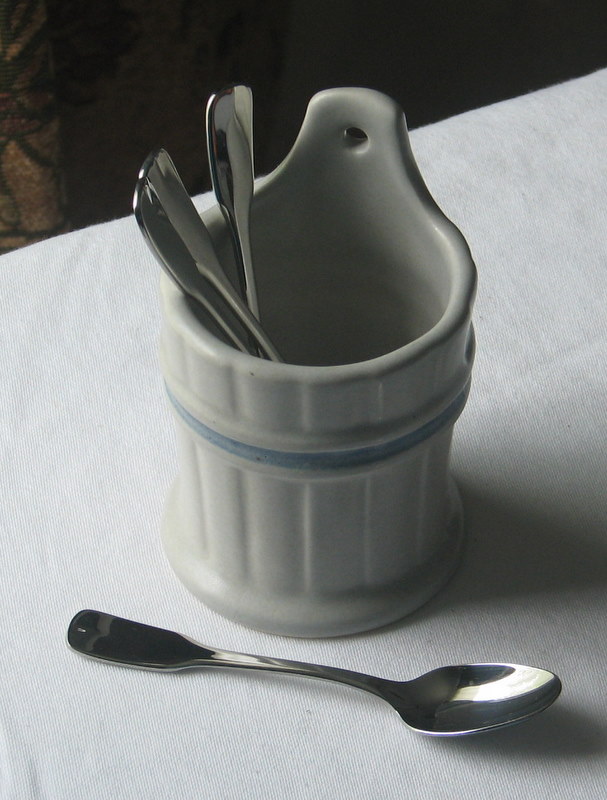 Pfaltzgraff is one my favorite dinnerware brands. And, finding unusual dinnerware and tableware pieces is part of the fun of scouting for dishes.
It took me a while to identify this unmarked piece. I could tell by the glaze that it was probably a piece of Yorktowne by Pfaltzgraff. But what?
Solving the mystery is also part of the challenge.
Then I stumbled upon the shape while looking through a listing in Pfaltzgraff's  Gourmet Brown pattern. And that led to another question: What is a piggin?
One good search leads to another. A piggin is a small bucket, with one stave made longer to act as a handle. This made it easier to carry, with no wire or rope handle to fall to the side. With a rigid wooden handle, the small bucket could also be used as a scoop.
Pfaltzgraff created this shape in stoneware. The vertical staves are clearly represented, as well as the hoops around them, that held them together. In early America, barrels, buckets, casks and piggins were part of the cooper's repertoire. The handle stave is short in the Pfaltzgraff piece, and has a hole to use to hang it on the wall.
The piece is glazed inside, and unglazed on the bottom.
The piggin shape was made in at least two of the traditional, Early American style Pflatzgraff patterns, Yorktowne and Gourmet Brown.
What to do with this piece? A piggin was a multi-tasker in its original wooden form, and in stoneware as well, as part of your traditional room decor or table setting.
Hang on the wall, as a single or a group, to add to your kitchen or dining room decor
Use as part of a table scape to go with your Pfaltzgraff dinnerware set
Fill with demitasse spoons and add to your stoneware coffee service, in the Yorktowne pattern, or use with another traditional or Early American china pattern
Add seafood forks and use on a buffet when you serve shrimp cocktail
Collect and put on your curio shelf, again to add to your home decor
This Yorktowne piggin is a well-made and interesting piece. I used it as a pencil holder until I could identify it.
Yorktowne piggin shown with demitasse spoons, Alsace pattern by Ginkgo. Spoons are about four and a half inches long, and the stoneware piece stands about 4 inches at the high edge, to give an idea of the scale of this charming accessory.




by