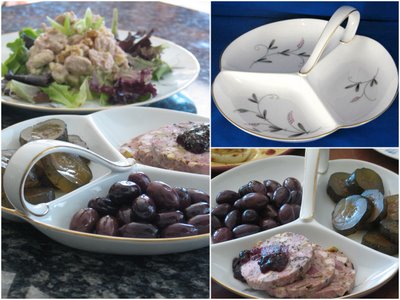 China serving dishes made specifically to serve relish trays are not as common today as they were in the 1950s, 1960s and 1970s. If you are looking for the fine china and glass versions of this dinnerware, many times you will be heading for the secondary marketplace.
Many relish dishes were made as an oval shaped plate with barely raised sides. This is the single-compartment "plain" relish dish. Some of these relish dishes doubled as an under plate for the gravy or sauce boat in the dinnerware set.
Then there are the fancier relish dishes made two, three, four, five or even more parts, like the three-part vintage Noritake dish in the photo. I've seen relish dishes with up to seven parts, and there could be some versions around with even more spaces for those tasty little finger foods.
Growing up, we ALWAYS had a relish tray at any family holiday meal. It was great because it was a way to serve raw vegetables, pickles and other finger foods. This is a way to keep the kids happy while the main meal is being finished, as long as they don't eat too much and spoil their appetite.
Many versions of relish dishes from this time period were also made to serve deviled eggs in addition to the other relishes.
If you don't have a relish dish, you can always substitute small bowls on a platter or large tray. This is the more modern way to serve a relish tray, and you often see glass versions of this arrangement, for relish, salsa or other savory accompaniments to certain foods.
I like the fun of using dinnerware specifically made as a relish dish. It takes me back to earlier times.
As for all those pickles, olives and relish tray foods, what a great way to emphasize healthier eating. Bringing back the relish dish is a charming way to offer raw vegetables to your guests, especially in the spring and summer when many fresh foods are in season.
Favorite relish dish foods:
Celery and carrot sticks. Now you can get the baby carrots at the store, to save some time peeling carrots.
Pickles. This is a great way to serve classic Midwestern pickles like baby sweet gherkins or sweet mixed pickles. Sechler's is a brand of pickles made in Indiana. They have many tasty varieties, and I love the sweet mix that includes cauliflower. In the Midwest, look in the pickle section of your local grocery. Also available online.
Olives. Many grocery deli departments have olive bars now, so many varieties join the green olives stuffed with red pimento pepper we had in the "days of vintage." A relish dish will give you an excuse opportunity to test the ones that look tempting.
Radishes. Add a bit of fire to your relish tray. Radishes are in season in the spring, so check out your fresh produce markets and farm markets for these little red and white beauties.
Stuffed or deviled eggs. Ours at home were made with the egg yolks and mayonnaise. Prepared yellow mustard and paprika sprinkled on top are also popular. I've seen them with tiny diced dill or sweet pickles, too. Chef Lynn's tasty stuffed eggs were made with diced red pepper and celery. She says you can also replace the egg yolk with tuna. That sounds wonderful!
About the photo:
The china: Three part handled relish dish by Noritake, vintage fine china in a pattern we christened "Pea Vine" for lack of the manufacturer's pattern name.
The food: Chef Lynn's Chicken Terrine (made with chicken, apple, walnuts, pistachios, ham and truffles) and served with balsamic jelly, as well as Ogden Nine Day Sweet Pickles (Flavor Secrets page 241), and deli olives.




by