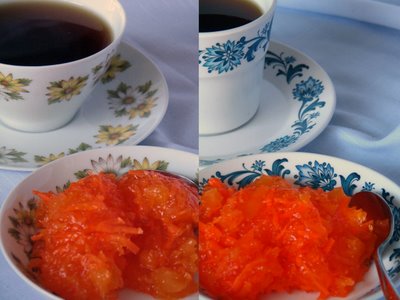 When my sister visited recently from the UK, I made several of our old family favorite foods, including orange gelatin dessert. Some products that we take for granted here, like fruit flavored gelatin, are difficult to obtain in other countries.
And it's the food that sometimes makes a place feel like home.
Of course, we had to get into the pretty dishes as well, and two vintage Noritake patterns came to mind as cute fruit bowls to serve this food.
Stephanie is a blue and white pattern in Noritake's Progression line. To my mind, it is based on the classic Blue Onion motif that decorates the china of many makers.
I believe the Progression line was Noritake's casual china in competition with Corning's Corelle. While this ware is a homogenous material like Corelle, Progression leans more to the clay side of the equation as compared to Corelle, which leans more to the glass side.
Stephanie is bold and bright, stylized flowers in tones of blue on white. Like other patterns in the Progression line, it is a bit prone to utensil marks. However, if you are setting a retro table, it's hard to go wrong with this and other patterns in this line.
Noritake made this dinnerware line from the mid-1960s to the early 1980s.
Some of the other patterns in this line are Mardi Gras, Sunny Side, Blue Haven, Up-Sa Daisy and Homecoming.
Table setting ideas: Mix Stephanie with other blue and white china patterns, those based on the blue onion concept or retro wares from the 1970s.
Marguerite, from the Cook n' Serve line, is porcelain and reminiscent of delicate wares such as bone china. Small pieces like the cup, saucer and fruit bowls are translucent when held up to the light.
This pattern has a colorful, detailed daisy motif, and the orange flower centers are brought out by the orange dessert. We don't find china in the Cook n' Serve line very often in our travels.
Noritake made this dinnerware line from about 1960 to the mid-1970s.
Some of the other patterns are Blue Orchard, Wild Ivy, Country Side and Namiki.
Table setting ideas: Mix Marguerite with other daisy-theme dinnerware patterns, floral or garden theme table settings, and settings based on green and yellow color themes.
About the Orange Jell-O
At our house, we always thought of Jell-O as a salad, but it can be a dessert, too, even in this recipe which features added vegetables and fruit. We especially liked the orange version. This is so easy even a beginning cook can do it.
Orange Jell-O Recipe
1 large box orange Jell-O
4 cups water (see package directions)
1 20 oz. can crushed pineapple, drained
2-3 large carrots, grated
Make Jell-O in a 9x9 square glass dish, according to package directions. Cool until partly set. Stir in the drained pineapple and grated carrots. Return to the refrigerator and chill until completely set.
Whatever you are serving, enjoy your dishes!




by