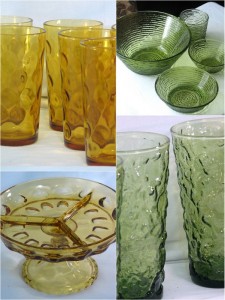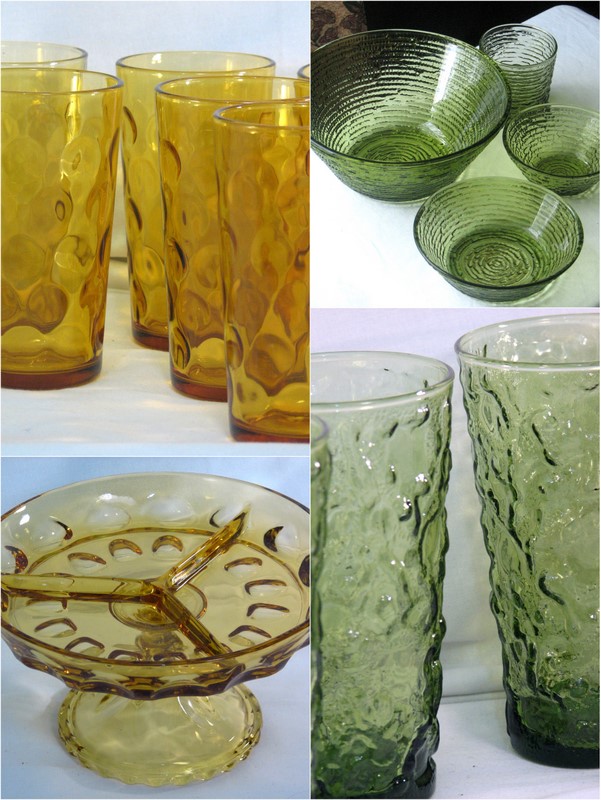 When I'm scouting for vintage glassware, the retro green and golden amber colors stand out strong on the shelf.
They are distinctive and bold, and work well with contemporary table settings based on an autumn color palette, as well as those built around other vivid colors.
Some of the vintage glassware patterns that were made in these colors:
Eldorado was originally made by Hazel Atlas, before and after the acquisition by Continental Can in the 1950s. The tall tumblers in the photo are in gold. Eldorado was also made in an olive green. They have raised dots on the inside.
Milano includes tall green tumblers. This pattern has a rough texture molded into the outside of the pieces. Other piece types include footed old fashioned, goblets and sherbets. Milano was also made in amber, aquamarine and crystal clear.
Georgian by Anchor Hocking has a distinctive petal shape, repeatedly molded in the form. This amber gold glass 3-part footed dish is hard to find. This pattern was also made in the avocado green and aquamarine.
Soreno, also by Anchor Hocking was made in olive green and several other colors: amber, crystal clear, clear iridescent and aquamarine. The pieces have a bark texture on the outside. Shown are a selection of bowls and a flat tumbler.
You can set your table with Soreno. The piece types range from salt and pepper shakers, plates and juice glasses, all the way up to 11-inch bowls and 67 oz pitchers.
Also, take a look at my recent post about the Indiana Glass Loganberry pattern. This charming occasional piece was made in green, amber and amber carnival.
These pieces and colors are available in the secondary marketplace. As with all glass, check for chips and cracks when purchasing pieces, especially the textured ones where small defects can easily hide.
Vintage glassware in fall colors will make your table setting shine with dramatic color!
In the photo: From top left clockwise: Eldorado, Soreno, Milano and Georgian. All vintage glassware.




by